Manchester Bombing: Homeless man interviewed by 'ITV News' recounts story of bravery during attack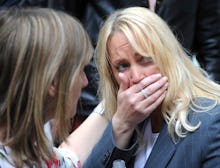 In the wake of what authorities are now investigating as a suicide bombing that left at least 22 people dead and around 59 people injured at an Ariana Grande concert in Manchester on Monday, ITV News, a media outlet based in the United Kingdom, spoke to a homeless man who told them the harrowing story of how he rushed to save the lives of wounded children.
"Just because I'm homeless, it doesn't mean I haven't got a heart and I'm not human still," the man, whom ITV News identified only as 'Steve,' said. "It's just instinct to go and help if someone needed your help, and it was children, it was a lot of children with a lot of blood on them screaming and crying."  
"We were having to pull nails out of their arms and a couple out of this little girl's face," Steve recounted.
The interview, which ITV News posted to its Twitter account on Tuesday morning, has already gone viral, garnering thousands of retweets and hundreds of responses celebrating Steve's heroism.
"What a legend! Has nothing, but gave everything to help those in need!" one person who watched the video said.
"Someone give him a home, a job and a bravery award!" another said.  
On Tuesday morning, ISIS claimed responsibility for the deadly attack on children and teens at Manchester Arena. 8-year-old Saffie-Rose Roussos is the latest victim to be identified to the public. In a statement, Queen Elizabeth II condemned the bombing as an "act of barbarity."
Follow our Manchester Arena attack live blog for up-to-the-minute coverage.