How Many Acts in 'Fire Emblem Echoes': Here's how long it takes to complete all the chapters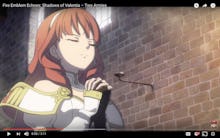 Fire Emblem Echoes: Shadows of Valentia, is the newest Fire Emblem game for the 3DS. Although some of its mechanics are a little disorienting to players more familiar with later games in the series, it still features a lot of tried and true Fire Emblem mechanics, such as recruiting new characters and fighting an evil wizard. 
If length is a consideration, and you're wondering how much time you can expect to invest in Fire Emblem Echoes, we've got you covered.
Fire Emblem Echoes Act List: There are five acts to complete
Fire Emblem Echoes Act List: the game has five acts and a post-game, totaling around 40 hours to complete it all.
According to the Fire Emblem Wikia, the game has a Prologue (new to the remake), five story acts and a post-game (also new to the remake). Here's a list of the acts and their titles in order:
• Prologue: Alm and Celica
According to GameFAQs, Acts 1 and 2 are about the same length, as are Acts 3 and 4, but the latter are much longer than the preceding two. Act 5 is the final dungeon and nothing more, so you'll have to make sure you're prepared. 
Twinfinite stated that playing on the normal difficulty in Classic mode (which keeps the series' punishing perma-death mechanic intact) meant that the game took them about 43 hours to complete.
If you're looking to spend more time in Valentia, you can also invest in the game's DLC, which will give you a new dungeon to explore along with two new maps as well.
More gaming news and updates
Check out the latest from Mic, including our list of video games that made fun of their players, a personal essay about dealing with anxiety through Breath of the Wild, a look at the racist and sexist experiences in esports and a plea for better character customization options for black characters.