'Fire Emblem Echoes' Best Class for Faye: Pegasus Knight or Cleric?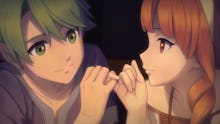 Fire Emblem Echoes is a bit unusual in terms of recent Fire Emblem games. Instead of getting units that are already archers or knights, your beginning units start as villagers.
When each one reaches a certain level, you'll have the option to select which class you'd like them to promote to. While there was some reclassing in the previous titles, Fire Emblem Echoes requires a certain amount of free choice. Faye particularly seems to be a cause for confusion, so we've narrowed it down.
Here's what Faye's class is in Fire Emblem Echoes 
According to a couple different forums, Faye should probably be in either a Pegasus Knight or a Cleric. There's a case for both classes.
In the tweet below, we can see the images of Faye with a pegasus, indicating that pegasus knight is her canon class. If lore is important to you, this might be the right choice for you.
However, if you're interested in this choice from a strategic perspective, cleric seems to be the way to go. Faye gets abilities that no healer in Alm's group can get including "Again" which is like dancing/singing from previous games that allows other characters to make a second turn. 
More gaming news and updates
Check out the latest from Mic, including our list of video games that made fun of their players, a personal essay about dealing with anxiety through Breath of the Wild, a look at the racist and sexist experiences in esports and a plea for better character customization options for black characters.