'Clash of Clans' Gem Mine: How to get free gems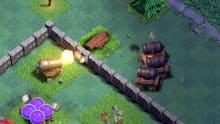 Clash of Clans is a game about watching timers slowly tick down — unless you're willing to shell out real money for gems. Actually, that's what mobile gaming is about in general. Of course, the number one question on players' minds is how to get free gems. Thanks to the new builder base update, you can finally do that — in a sense.
How to build the gem mine and get free gems in Clash of Clans
Once you've set sail for the new base, all you have to do is spend 120,000 elixir to unlock the gem mine. You can spend 50 gems from there to instantly unlock it if you don't feel like waiting for an hour, according to YouTube channel Rdplay. Once it's done, you have an unlimited supply of free gems.
Actually, that depends on your definition of "unlimited." According to the Clash of Clans forums, you get 2.1 gems per day, with an additional 0.3 gems per day with each upgrade. That is, in simple terms, not a whole lot of gems. It wouldn't be very smart for Supercell to undercut its gem market, after all.
Still, this is better than resorting to shady websites that ask for way too much personal information before promising free gems. 
More gaming news and updates
Check out the latest from Mic, including our list of video games that made fun of their players, a personal essay about dealing with anxiety through Breath of the Wild, a look at the racist and sexist experiences in esports and a plea for better character customization options for black characters.