Nintendo Switch skydiving ad is the best fan-made commercial we've seen in a while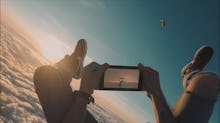 The Nintendo Switch has already seen some interesting promotions. The Switch's Super Bowl ad and its appearance on The Tonight Show already surpass the Wii U in how varied the console's advertising has been. The newest commercial for the Switch shows a player jumping out of a plane with their portable console. Even crazier: This commercial wasn't made by Nintendo.
Nintendo Switch skydiving ad: Nintendo didn't even make this
The first-person visuals of "Banana Switch" come from ??? on Youtube. They feature Nintendo gamers playing the Super Nintendo then receiving a Switch, allowing them to play on the go. A Diddy-like character in a backwards hat follows your character as they venture outside to play Mario Kart and Zelda: Breath of the Wild. The portable system takes your POV to the bus, a bike and, as the thumbnail below suggests, the open sky. Hit the play button for three minutes of impressive views.
This video may not rack up as many views as the original Nintendo Switch announcement trailer, even if skydiving with a GoPro is a little cooler than playing Skyrim on an airplane. But it's worth noting the effort required for the transitions, recording in various locations and, of course, falling through the sky. Despite the YouTube ad's thrill-seeking, adventurous nature, nothing may match the initial hype of that first Switch announcement.
"Banana Switch" is — between the Diddy character, the bananas and the noises — very clearly Donkey Kong themed, though it draws attention to the lack of a Donkey Kong game on Switch. Let's hope Nintendo brings the tie-wearing monkey's catalog of games to the system when they finally port over the virtual console.
Check out more Nintendo news and coverage
Looking for more Nintendo Switch news? Check out how blind gamers are using the Nintendo Switch and why you can't get your Mii to look quite like you. Nintendo's left Joy-Con issue turns out to be a hardware problem — here's how to solve it. Find out how to buy a console amid the recent restock. Learn why the Switch cartridges taste so bad. Check out our comparison photos sizing up the Switch to the Wii U GamePad (part one and part two), or find out how to make use of ethernet without the dock and the best way to get alerts when new stock arrives.