Navigating Trump's America: The president would cut $1 trillion from social programs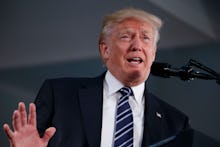 President Donald Trump's first budget may be going nowhere on Capitol Hill, but that doesn't mean parts of the proposed spending package will not become reality. Republicans have displayed more division than unity on high-profile policy issues, debating health care and taxes with little agreement. But the budget, released today, offers plenty of red meat for conservatives.
Highlights of the more than $1 trillion in cuts to social programs in Trump's budget:
•  Cutting $616 billion from Medicaid and the Children's Health Insurance Program over 10 years, which assumes passage of the American Health Care Act.
•  Cutting nearly $200 billion from food stamps, which helps feed 44 million people annually.
•  Cutting $72 billion from programs for people with disabilities, supposedly by ferreting out waste and fraud. (Note that this budget does not cut Social Security, though this cut to Social Security Disability Insurance could be considered breaking a campaign promise.)
•  Consolidating student loan repayment plans (saving $76 billion), ending subsidized student loans (saving $39 billion) and ending Public Service Loan Forgiveness (saving $859 million).
•  Cutting $50 billion from agriculture subsidies.
Trump's plan proposed a nearly half-a-trillion dollar increase to the Pentagon's budget over 10 years, while claiming he will save more than that — $593 billion — by ending wars.
Budget stories: Trump's budget could hit his own voters hardest, Politico noted. The New York Times parsed out some spending cuts and increases. According to USA Today, the budget would cut the Environmental Protection Agency's budget by 31% and cut environmental grants to states by 45%, or nearly $500 million. And oil prices slipped after Trump said he would sell half of America's oil reserves, MarketWatch reported.
What's next: The budget will now come before Congress, which may not give it a hearing in its entirety. The largest changes, like hundreds of billions of dollars in cuts to Medicaid, are unlikely to pass the Senate. But these proposals give the Republican Congress a place to start.
Ideas with smaller budgetary impact, like repealing loan forgiveness for public servants, could be easier to sell to moderates concerned about hacking Medicaid, disability insurance or other pieces of the social safety net.
This is Mic's daily read on Donald Trump's America. Welcome to the political newsletter that is thinking of the victims of the Manchester bombing. 
What we're watching:
Today: The president released his budget today. It would cut $1 trillion from social programs.
More: A bombing in Manchester, England, killed 22 people. Authorities suspect terrorism.
Even more: Trump reportedly asked intelligence leaders to push back against the FBI's probe of Trump-Russia ties.
Yes, more: Michael Flynn has taken the Fifth.
Trump's agenda today: Trump wrapped up his trip in Israel by meeting Palestinian Authority President Mahmoud Abbas and visiting Israel's Holocaust museum. He is traveling to Rome.
Terror in Manchester
ISIS has claimed responsibility for the explosion in Manchester, England, that killed 22 people at the end of an Ariana Grande concert. The terrorist blast at the country's largest music venue could have a major impact on the upcoming British parliamentary elections.
Mic is tracking news about the bombing as it breaks. Follow along here. Trump called whoever committed the bombing "evil losers." Grande posted a response on Twitter and #RoomForManchester trended to support bombing victims.
The latest in the Trump-Russia investigation
Former FBI Director James Comey may not be the only one Trump tried to influence. When Comey announced in March that his agency was investigating allegations related to the president, Trump asked Dan Coats, director of national intelligence, and Adm. Mike Rogers, director of the National Security Agency, to publicly refute any claims of collusion between the Trump campaign and Russia. (Washington Post)
Former national security adviser Michael Flynn has said he will invoke the Fifth Amendment in the investigation — raising suspicion about what Flynn could be hiding. Flynn will not comply with a subpoena from the Senate Intelligence Committee, which is reserving the right to hold Flynn in contempt. He also reportedly lied to the Pentagon in 2016, saying he had not been paid by Russia. Two months earlier, Flynn was paid $45,000 to give a speech at a gala for Kremlin-backed news network RT and sat next to Russia President Vladimir Putin.
At 10 a.m. Eastern on Tuesday: The House Intelligence Committee will hear from former CIA Director John Brennan — with Rep. Mike Conaway (R-Texas) presiding over the hearing. Conaway has helped the committee, plagued by partisan under its former chairman, return to credibility.
Speaking of Russia: Trump is considering outside counsel to defend him during the probe into ties between his campaign and Russia. (Washington Post)
News and insight you cannot miss:
•  Trump spoke of peace in his visit to Israel and concluded by saying he harbored strong support for the Jewish state. He did not mention issues like moving the U.S. Embassy to Jerusalem, settlements or a Palestinian state — the key sticking points between Israel and Palestine. (Jerusalem Post)
•  A young GOP congressman tells Mic what his party needs to do amid Trump tumult. (Mic)
•  Trump says Twitter was key to his winning the White House. That led Twitter's co-founder to apologize. (Mic)
•  North Carolina will get new congressional districts after a Supreme Court ruling said state lawmakers acted with racial bias in how they drew the districts. (Vox)
•  How Trump used Facebook to win the election. (New York Review of Books)