Instagram Archive: The app is rolling out a new way to temporarily hide photos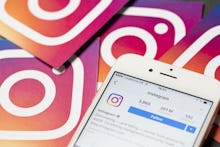 People delete Instagram posts for lots of reasons. Sometimes it's because a picture doesn't get enough likes. Sometimes it's a general spring cleaning of your feed. Sometimes it's the immense humiliation that comes with seeing how terrible your filter selection used to be. No matter the reason, you might regret eliminating a photograph permanently.
Instagram will soon let you delete your post and keep it, too.
Called "Archive," the feature allows users to hide their posts without making it permanent, TechCrunch  reported. Through Archive, you can still look at the hidden post in private and have the ability to restore the image to your feed if and when you want your followers to see it.
This feature is particularly functional for users who want to remove images of an ex or a loved one who's passed away without having to get rid of the post's associated memories and comments. And if you change your mind about archiving a given post, there's a way to put it back.
How to archive Instagram posts
First, go to the photo or video you want to archive. Then, select the three round dots in the upper righthand corner, across from your handle and geotagged location. A white menu will pop up from the bottom offering several features like delete, share, edit, turn off commenting and archive. Select archive to indefinitely remove a post from your feed. Because the feature is still being tested on different users, you might not have it yet, Instagram told TechCrunch.
How to view archived posts
To see your archived posts, go to your feed. In the top right corner, you'll see a clock icon with an arrow. Clicking on the icon will show you all your archived posts in chronological order. Once archived, the posts are for your eyes only.
How to remove Instagram posts from the archive
To put posts back in your feed, go to the Archive page, choose the post in question, click on the three dots and select "Show on Profile."
In addition to Archive, Instagram will introduce location stories and hashtag stories on its Explore page. By adding a location sticker or hashtag, users "may be included in the larger story." The Facebook-owned app will show you how many people see your story in the larger story, and also lets you hide your story from a bigger story by clicking the "X" on your stories viewer list.