Who's still left on 'The Voice'? Here are our predictions for the season 12 finale.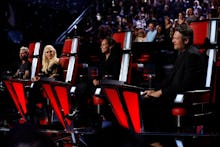 With four finalists remaining, NBC's The Voice is very close to crowning a season 12 winner.
Contestants Jesse Larson, Lauren Duski, Aliyah Moulden and Chris Blue have made it to the end of their journeys. They've all proven themselves throughout the season, showcasing their versatility and strengths as artists — but now, the decision rests in the hands of voters. 
The first part of The Voice finale airs at 9 p.m. Eastern on Tuesday on NBC. Here's our rundown of the four finalists:
Larson is Team Adam's last remaining contestant. The soulful singer has given memorable performances in season 12, including his takes on Morris Day and the Time's "Jungle Love" and Adele's "Make You Feel My Love." He's proven himself to be a unique artist and has made a strong case as a title contender.
Country artist Duski is one of Team Blake's final two contestants. She's performed incredible covers of Wynonna Judd's "Tell Me Why" and Alison Krauss' "When You Say Nothing at All" — and seems poised to take over the country world. 
The remarkable Moulden is Team Blake's other contestant. At just 15 years old, Moulden has made her mark in the competition by performing covers of Carrie Underwood's "Before He Cheats" and Stevie Wonder's "Signed, Sealed, Delivered I'm Yours," demonstrating she can do it all. 
Team Alicia has one contestant in the final four, and Blue is ready to take the win for his coach. The singer has really covered it all this season, with renditions ranging from Janet Jackson's "Rhythm Nation" to Al Green's "Love and Happiness." 
Find out who's crowned the winner of The Voice's season 12 at 9 p.m. Eastern on Wednesday on NBC. 
Mic has ongoing TV coverage. Please follow our main TV hub here.