James Corden sends a touching message to Ariana Grande and Manchester following tragedy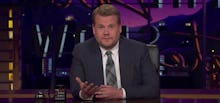 While taping Monday's edition of The Late Late Show, James Corden and the rest of the show's team heard the news that there had been a deadly explosion outside of an Ariana Grande concert in Manchester, England. The reports were still unfolding at the time, but he spoke to what he knew, that there were "multiple fatalities and many injuries" and that a night that was supposed to be a dream for many young fans had turned into a nightmare.
"It shocks me every time we hear this sort of news, that attacks like this can happen, and especially when there will be so many children at this concert tonight," Corden said at the top of his two-minute address. 
He then turned his attention to the reeling city of Manchester, reminding his viewers of some of the indispensable gifts its citizens have given, and sending strength to all those affected.
"Many won't have ever been to Manchester, but you will definitely have heard of it," he said. "It's famous all over the world for so many wonderful things" — football teams, such as Manchester City F.C. and Manchester United; "incredible music," citing Oasis and Joy Division; as well as being the birthplace of the first leader of the suffragettes. 
"But when I think of Manchester, the place that I know, I think of the spirit of the people there, and I'm telling you: a more tight-knit group of people you will be hard-pressed to find," Corden went on. "Strong, proud, caring people with community at its core, and if it was even possible, the spirit of the people of Manchester will grow even stronger this evening."
As of Tuesday morning, the death toll from the attack stands around at least 22 deaths and 59 injuries. Police are investigating it as a terrorist attack, and ISIS has already claimed responsibility for the plot. It's the most deadly terrorist attack in Britain in a decade, according to the Guardian.
"We'll all go to bed holding our little ones even tighter this evening," Corden said, concluding his address after sending condolences to Ariana Grande, the families of the victims, Manchester Arena security and first responders. His words join scores of celebrities who have all reached out to the city and victims, including a clipped message from Grande the night of the attack. 
"Broken," she tweeted. "From the bottom of my heart, I am so so sorry. I don't have words."
Mic has ongoing music coverage. Follow our main music hub here.