'The Flash' co-showrunner Aaron Helbing departing; behind-the-scenes shakeup for season 4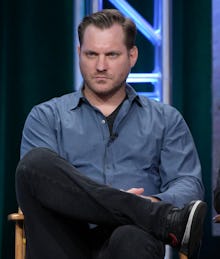 Following Tuesday night's season three finale, it appears The Flash will undergo a major shakeup behind the scenes. When the series returns in the fall for its fourth season, Aaron Helbing — who has been a co-showrunner alongside his brother, Todd, since the show's inception — will not be part of the ongoing creative team.
In the recently released season four synopsis, Aaron Helbing's name was absent from the list of returning executive producers, creating speculation that he may be leaving the series. ComicBook.com reported that it has confirmed Helbing will indeed be exiting The Flash.
While there are no details being revealed regarding why Helbing is leaving the show, his departure is no small matter. Along with his brother, Aaron Helbing has written over a dozen episodes of The Flash, including the finales of seasons two and three. Though Aaron will be leaving the series, Todd will stay on as an executive producer. 
You can check out the official synopsis for The Flash's fourth season below, but be warned, it possibly contains major spoilers for Tuesday night's finale, including the answer a major question:
Barry Allen (Grant Gustin) lived a normal life as a perpetually tardy C.S.I. in the Central City Police Department. Barry's life changed forever when the S.T.A.R. Labs Particle Accelerator exploded, creating a dark-matter lightning storm that struck Barry, bestowing him with super-speed and making him the fastest man alive — The Flash. But when Barry used his extraordinary abilities to travel back in time and save his mother's life, he inadvertently created an alternate timeline known as Flashpoint; a phenomenon that gave birth to the villainous speed god known as Savitar, and changed the lives of Caitlin Snow (Danielle Panabaker) and Wally West (Keiyan Lonsdale) forever. 
The Flash season three finale airs Tuesday, May 22 at 8 p.m. Eastern on the CW.
Mic has ongoing coverage of The Flash. Please follow our main The Flash hub here.