Who is Father Maskell in 'The Keepers'? His death brought little solace to his victims.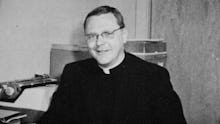 Netflix's The Keepers puts a magnifying glass on Father A. Joseph Maskell, the man at the crux of the terrible crimes that occurred at Baltimore's Archbishop Keough High School almost 50 years ago. Whether or not Maskell was responsible for Sister Cathy Cesnik's murder, his repeated sexual abuse of numerous teenage girls makes him a criminal many times over. And yet, despite two former Keough students filing lawsuits back in 1994 — and several other allegations brought against the priest — Maskell was never convicted, nor was he ever charged in Cesnik's death.
Instead, after denying every sexual assault accusation, Maskell died of a stroke in 2001 at the age of 62. Before that, however, he continued working at Keough for another five years after Cesnik's body was found in January, 1970. After that, he became the pastor at Holy Cross Church just four miles from the high school. 
It was only after the 1994 lawsuits that the archdiocese took action, removing Maskell from his position and stripping him of his priesthood. Even though no charges had officially been brought, the church believed there were "credible allegations against him," according to Newsweek.
In light of the Netflix documentary, the archdiocese released a statement with regard to Maskell's actions, in which it apologized and referenced the "assistance" it offered the victims. 
Since the 1990s, when the Archdiocese of Baltimore first learned of an allegation of child sexual abuse against Maskell, and on numerous occasions since, the archdiocese has publicly acknowledged and apologized for the horrific abuse committed by him. The archdiocese reported the allegations to civil authorities in the 1990s and cooperated fully in any investigation, removed Father Maskell's faculties to function as a priest, apologized to victims and offered them counseling assistance, sought additional victims and provided direct financial assistance to 16 individuals abused by Maskell.
The statement went on to say how the archdiocese is "wholly committed to protecting children" and holding abusers accountable; however, all it did was offer paltry sums of money to the victims who came forward. For example, student Donna Von Den Bosch — who alleged Maskell had repeatedly raped her — was only offered a $35,000 settlement. Jean Hargadon Wehner, whose continuous abuse is highlighted in The Keepers, received $50,000, according to Bustle.
"There is a lot of frustration on the part of the survivors as to the amount of money that's being paid in these settlements," Sheldon Jacobs, an attorney representing some of the victims, told the Baltimore Sun, "considering the level of egregiousness and terrible conduct on the part of one man." 
It's more than a little surprising Maskell wasn't ever charged with a crime, especially given the amount of files exhumed from the Holy Cross Cemetery, which were buried on Maskell's orders. According to one former detective, the boxes of files also contained lurid photos of the girls, many with their blouses undone. While it seems that would be more than enough evidence to at least convict Maskell of child abuse, the files disappeared after they were dug up — which ultimately led to the students' case being thrown out on a technicality in 1995.
It's widely assumed the church — and, possibly, the police — were likely protecting Maskell. He was a powerful figure in the church before the allegations and significantly involved in the community. Aside from his position at Keough, Maskell was chaplain for the Baltimore County police, the Maryland National Guard and the Maryland State Police. His brother was also a Baltimore City police officer. As such, he had a strong support network in both law enforcement and the Baltimore Archdiocese. It would've taken a lot more than a few allegations from young women to bring him down. 
That said, thanks to the amateur detective work of Gemma Hoskins and Abbie Schaub featured in The Keepers, the case is still being actively pursued. With a hit documentary series behind them, they just might be able to bring Maskell to justice, albeit posthumously. 
Mic has ongoing Netflix coverage. Follow our main Netflix hub here.