Manchester Bombing: Here's how people are coming together to help attack victims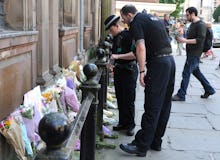 The Manchester community is showing humanity in the face of inhumanity after a terrorist attack left at least 22 dead and 59 wounded at an Ariana Grande concert Monday night. 
In the wake of the attack — Britain's deadliest since 2005 — volunteers have poured in to donate blood, the New York Times reported. Residents of the city have opened their homes to help victims of the bombing, and taxi drivers have offered free rides. Parents wounded in the attack have refused treatment to allow doctors to focus on saving children.
"I want to thank the people of Manchester," Mayor Andy Burnham said Tuesday morning. "Even in the minutes after the attack, they opened their doors to strangers and drove them away from danger. They gave the best possible response to those who seek to divide us."
"And it will be that spirit of Manchester that will prevail and hold us together."
Here's how Mancunians responded to Monday's deadly attack — and how you can help.
The "spirit of Manchester"
After the attack on the pop concert, people who live in and near Manchester offered space and comfort to victims using the hashtag #RoomForManchester.
Reports emerged of taxi drivers offering their services, as well as water and phone chargers, following the attack. Contrary to those who used the attack as an opportunity to argue for a Muslim ban, many pointed out that a number of the cab drivers who helped were in fact Muslim. 
The story of a homeless man's heroics has gone viral since the attack. A man identified by ITV News only as "Steve" described his rush to save wounded children, helping to pull nails out of their arms.
Meanwhile, blood donation centers received such an influx of volunteers, hospitals already have enough of a supply to treat the victims of the attack, the Independent reported Tuesday. The National Health Service is urging donors to make an appointment in the coming days, particularly for O-negative blood types.
Doctors say that wounded parents have been refusing treatment at area hospitals until the young victims of the attack were treated. Children under 16 reportedly make up 12 of the 59 injured, and at least one of the deceased. 
Saffie Rose Roussos, 8, and Georgina Callander, 18, were the first two people reported dead in the attack.
"These were children, young people and their families that those responsible chose to terrorize and kill," Mayor Burnham said, praising the work of emergency responders and ordinary people. "This was an evil act."
Others — including Liverpool Mayor Steve Rotheram, whose two daughters and two nieces were at the concert — commended the actions of everyday Mancunians in response to the terror.
"The spirit that they have displayed is just typical of people in this part of the world," Rotheram said. "While I've got huge relief this morning my girls are safe, there will be parents waking up without children and unfortunately children waking up without parents this morning because of this horrendous act."
How you can help Manchester 
How can you help if you're not in Manchester? There are a few ways.
The Manchester Evening News has created a crowdfunding page to raise money for the victims of the attack. As of Tuesday afternoon, the page had received more than 475,000 of its 500,000-pound goal. 
A number of people are still missing in the wake of the attack — sharing their images on social media could help their loved ones find them, according to the Independent. However, it is important to ensure the veracity of the information you share; there have been reports Tuesday of trolls sharing fake victims and missing persons to fool the public.
Thousands were expected at a vigil in Manchester's Town Square Tuesday evening, where mourners can sign a book of condolences for the victims and their families and lay flowers around Manchester Cathedral.
Leaders around the world, including President Donald Trump, have offered their support to Manchester and the United Kingdom. 
"We have had messages of support from cities across the country and around the world and we thank them," Mayor Burnham said. "We are grieving today but we are strong."