Woman berates Latino man in Virginia Sprint store: "Take his fucking ass back to Mexico"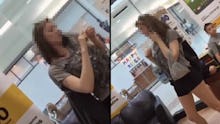 A viral video captured an incident where a white woman went on a racist tirade inside a mall Sprint store in Manassas, Virginia.
In the video, the woman called a Latino man a "spic" — a racial slur used against Hispanics and Latinos — and threatened to physically assault him. 
Shaun King tweeted the video, which has already garnered more than 45,000 retweets, on Sunday.
The video begins with the woman speaking on the phone and telling someone, "I'm in Manassas in the ghetto," after she had already visited several Sprint stores for a issue she needed to resolve. A man in the background tells her a Fairfax store might be helpful, but his suggestion seemingly irked her.
"I wasn't talking to you," she said to the man. "You better watch who the fuck you're talking to 'cause I'm not the one."
"My name is Juan," the man replied, his voice nearly expressionless.
The woman continues to berate the man, telling him she doesn't "give a fuck" what his name is and even attempting to involve her husband in the altercation.
"You see my husband standing right there?" the woman said. "Keep talking shit and watch and see if you don't meet that."
"And I ain't got no nails on," she added. "I'll fucking fight today because I ain't got shit to break. I ain't scared of no fucking spic. This is my fucking country."
Juan briefly appears in the video as he walks out of the store, without uttering a word to the woman. He is heard telling someone off camera to "take it easy."
Immediately after the man walks out, the woman is heard saying, "They need to take his fucking ass back to Mexico."
You can watch the entire incident here: