Michelle Obama's post-White House style is her at her most liberated, fearless and fun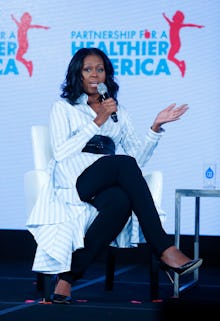 It's been four months since Michelle Obama left the White House, and gosh she seems happy. 
We all saw those pictures of Barack Obama using an iPad to snap her picture on a yacht. 
We all saw that picture of her with her toes in the sand, basking in the sun with the love of her life. 
We saw that candid pic of hers, showing her simply walking her two dogs. 
She is carefree incarnate, no longer needing to consider the eyes of 300 million Americans when she gets dressed every single day. 
And maybe because of that, she's never looked — or dressed — better. 
We make this bold statement now upon seeing the pictures of her and her husband in Italy, with her in army green cargo palazzo pants and an off-the-shoulder white top that screamed, "I am the coolest woman in the universe." 
After making the rounds on the internet, these two images further enforced the idea that Obama is one of the most influential women when it comes to fashion today. 
Her every move — and outfit — is still quickly analyzed by her millions of fans. 
But what's so fun about how Obama looks now is that you know she's not dressing for anyone but herself. She doesn't have to take into account what country is visiting her husband in the White House, and dress accordingly. She doesn't have to take into account whether she's dressed appropriately or not (though we'd never doubt her taste) for any one event. She doesn't have to consider anything other than what she wants to wear on any given day. 
That being said, these outfits we've been seeing are the first glimpses we've gotten of Obama dressing exactly how she wants — her own person style shining through. 
The day before the army green pants, she was photographed in Italy wearing a pink off-the-shoulder top (which goes for $397) and white ripped pants. 
Can you imagine what people would have said if Obama wore ripped-up pants as first lady? It would not have flown. 
But as a woman simply on vacation, living her life, she looks just fine. Actually, no, "fine," is never a word that should be used to describe her. According to her fans, it's more like "on point" and "pretty" and "radiant."
Even at more official events as of late, Obama has put on a show. 
To a health summit earlier this month, Obama showed up in black pants, a long striped shirt and a chunky black leather belt. 
The outfit could have flown if she were still first lady, but still, it's got edge. It's not the simple designer shifts that we so constantly see with our current first lady. Obama's look here is trendy and flirty and fun. 
It's relatable, an outfit we could put together ourselves if we went to the mall long enough. 
The same can be said about the very casual outfit Obama wore to a college signing day event in early May. 
To that, she wore grey skinny jeans (which actually could be jeggings), a grey Stanford T-shirt, a grey cardigan and sneakers. Sneakers. 
Obama was known for wearing more casual outfits in the White House, but seeing it now has brought back this feeling that Obama is not that different from the average American, and not trying to make herself out to be different either. 
That's not to say that everything Obama has worn has been relatable, either though. When her husband accepted a John F. Kennedy Profile In Courage Award (also in early May), she glammed up, wearing a deep blue one-shoulder gown with gigantic jewel earrings. 
Still though, this is so far from the kind of style that we saw Laura Bush rock after her White House stint, or even Hillary Clinton. Obama is so clearly loving dressing how she (and only she) wants to dress, that it now feels like such a sport to watch for many of her fans. (And us.)