'Battlefield 1' Russia DLC: DICE adds female soldiers to multiplayer for the first time ever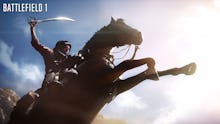 Back in October, DICE said it was "too early" to talk about whether or not Battlefield 1 would have playable women in multiplayer. That interview came alongside the game's launch, so the answer to our question at that time was "no." It put Battlefield 1 in contrast to Call of Duty, which has included playable women for a few years regardless of whether or not it's historically accurate.
It may have been too early to add women to Battlefield 1 then, but it's not too late now, with the game's new Russia-themed downloadable content, "In the name of the Tsar," on the horizon.
Battlefield 1 Russia DLC "In the name of the Tsar" finally adds women to multiplayer
The newest Battlefield 1 DLC is called "In the Name of the Tsar." As you'd expect, it's all about Russia. Not much is known about what weapons and maps will come with the DLC, but a tweet from the official Battlefield account confirmed the presence of female soldiers.
Kotaku has a helpful look at the history behind this decision, which includes 6,000 Russian female soldiers during World War I. That means, no matter what any goofballs on Twitter say, this is actually historically accurate. Though even if it wasn't, it would still be the right move for the series.
Battlefield 1's single-player campaign was appropriately reverent of the many different kinds of people who fought to defeat the Central Powers, including a Bedouin woman in perhaps its best sequence of levels. The multiplayer has been slowly moving in the same direction, as the "They Shall Not Pass" DLC added the French Army. The addition of Russian female soldiers is another vital step in that direction. It's also just fun to ram a jeep into an enemy soldier who's trying to protect their objective while playing as a badass Russian woman.
More gaming news and updates
Check out the latest from Mic, including our list of video games that made fun of their players, a personal essay about dealing with anxiety through Breath of the Wild, a look at the racist and sexist experiences in esports and a plea for better character customization options for black characters.