'Tekken 7' PC Requirements: What specs you'll need to run the game on a Windows computer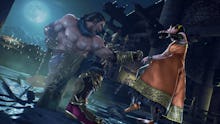 The Tekken 7 U.S. release has been a long time coming. It drops on June 2, and even if you've already decided which character you're going to use to wipe the floor with your online competitors, there's still one question you might be asking yourself. 
Should I buy the game for the PS4, Xbox One or for the PC?
If you're considering the PC version of Tekken 7, you might be wondering what you'll need in order to run it. The good news is that it's actually pretty modest by a modern game's standard (the game did originally come out in 2015). Read on for the full specs list.
Tekken 7 PC requirements: Modest RAM, but lots of hard drive space required
According to the game's official Steam page, Tekken 7 isn't going to break your system by any stretch of the imagination.
The game is only going to require 6GB to run, and you'll only need 2GB of RAM. Assuming your gaming PC or laptop is at all current, you should already have much more than that. What's even better is that if we look at the recommended requirements, we'll see that they're not much more stringent.
Really the only thing that changes with the recommended settings is that it'll take an additional 2GB of RAM for the memory and it'll require a better graphics card. Along with all this, the game responds to 4k and a 60fps frame rate fairly well, according to PC Gamer. Based on NVIDIA's own calculations and tests, the recommended specs are actually good enough that you can play the game at 60fps at a 2560 x 1440 resolution. If you want to do that in 4K though, you'll need to upgrade to a GeForce GTX 1080 Ti.
More gaming news and updates
Check out the latest from Mic, including our list of video games that made fun of their players, a personal essay about dealing with anxiety through Breath of the Wild, a look at the racist and sexist experiences in esports and a plea for better character customization options for black characters.