'Lawbreakers' PS4 Release Date: Beta confirmed — but what about on Xbox One?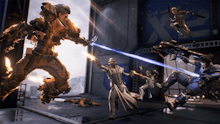 Competitive first-person shooters are fun and all, but one could argue they're held back by this whole gravity business. Why walk when you can fly? That's the question Lawbreakers attempts to answer. PS4 players will be able to find out together when Lawbreakers comes out later this year, but Xbox One are likely out of luck.
Lawbreakers Beta: Announced for PS4, but not Xbox One
Lawbreakers is the first game from Boss Key Productions, a new studio headed by Jazz Jackrabbit designer Cliff Bleszinski. He also worked on Unreal Tournament and spearheaded Gears of War, both of which are probably more relevant to this multiplayer shooter. 
Bleszinski confirmed a PS4 version of the previously PC-only shooter in a post on the PlayStation blog. Here's what Lawbreakers will look like:
It's a first-person shooter that takes place in a world where the moon exploded and gravity doesn't work correctly. Each map has distortions allowing you to float around and even propel yourself forward using your gun. It stars a diverse cast of characters who fulfill different roles on a team, including healing. However, as Bleszinski is quick to point out, even the healer can do a ton of damage.
There are a few interesting details to dig through here. First, it's coming to PS4 but not Xbox One. Since Bleszinski helped define online multiplayer on Xbox 360 with Gears of War, this is somewhat surprising. In his PlayStation blog, he  called it a "hard choice" without really elaborating. There's no indication it will stay a PS4 exclusive forever, of course.
Second, Lawbreakers has abandoned its original free-to-play model in favor of a flat $30 charge. All DLC will be free and the game will only be available digitally. Bleszinski said the pricing model is a way to make sure the community doesn't get fragmented by "pay-to-win" systems and expensive map packs. 
Lastly, the game will have a console beta, but there's no information yet on what that will entail or when it will happen, according to a Reddit AMA as reported by PlayStation Lifestyle. Bleszinski's blog commits to a 2017 release for Lawbreakers on PS4 — and, presumably, PC — so hopefully more news about the beta will come soon.
More gaming news and updates
Check out the latest from Mic, including our list of video games that made fun of their players, a personal essay about dealing with anxiety through Breath of the Wild, a look at the racist and sexist experiences in eSports and a plea for better character customization options for black characters.