'Arms' Nintendo Switch Characters: Global Testpunch demo still limited to 7 fighters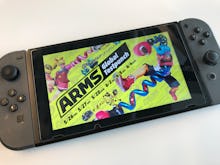 The characters in Nintendo Switch's new fighting game, Arms, are a core part of the game's personality. Fighters like Min Min, Spring Man and Twintelle have fans excited for the game to hit. But according to the official Arms Twitter, those taking part in the Global Testpunch beta won't have access to all 10 characters.
A listing on Nintendo's eShop on Tuesday indicated the full roster might be available for the early demo, but unfortunately, that doesn't seem to be the case.
Arms Nintendo Switch characters: All 10 fighters won't be part of the beta 
An earlier tweet from the Arms Twitter account confirm only seven of the 10 characters would be available to use during the demo period.
However, a Nintendo eShop screenshot shared by Reddit user llethal01 clearly states that all 10 Arms characters would be playable in the beta. Mic was even able to reproduce the same screen on its own Nintendo Switch.
After reaching out to Nintendo directly to clarify the company's mixed messaging, Mic was able to confirm that the eShop page in question was, in fact, incorrect. Nintendo said the page will be changed to reflect the official Global Testpunch plans.
Arms Nintendo Switch: Other features coming to the demo
Similar to the Splatoon 2 testfire, the Arms beta will support multiplayer with folks on your friends list. However, Arms will have the added benefit of local multiplayer with nearby Switch owners also playing the game.
Arms testers will also be able to play Hoops mode, which lets you duke it on a basketball court where can dunk your enemies. Good luck calling foul.
The Arms Global Testpunch begins at 8 p.m. Eastern on Friday.
Check out more Nintendo Switch news and coverage
Looking for more Nintendo Switch news? Check out how blind gamers are using the Nintendo Switch and why you can't get your Mii to look quite like you. Nintendo's left Joy-Con issue turns out to be a hardware problem — here's how to solve it. Find out how to buy a console amid the recent restock. Learn why the Switch cartridges taste so bad. Check out our comparison photos sizing up the Switch to the Wii U GamePad (part one and part two), or find out how to make use of ethernet without the dock and the best way to get alerts when new stock arrives.