Ariana Grande concert bombing: A timeline of the Manchester attack through Twitter posts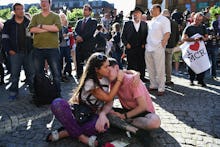 Monday night's terror attack at an Ariana Grande concert in Manchester, England, shocked people around the world. Suspected suicide bomber Salman Abedi triggered an explosion that took 22 lives; 59 were injured, and thousands fled for their lives. Much of the chaos was captured on video and quickly posted to social media, creating an indelible record of the night as it turned from a celebratory concert to a terrifying and deadly incident. 
Before Manchester Arena erupted into pandemonium, concert-goers were happily showing off their tickets, outfits and the venue itself.    
Grande's fans swayed and rocked as the concert waned on, but after the pop star had finished her performance, a blast shook the arena.
The detonation instantly claimed multiple lives and sent the concert into pandemonium. The crowd fled for the exits, despite repeated warnings over the arena's loudspeakers to remain calm.
British first responders rushed to the scene soon after the first reports came in, forming a line of flashing blue lights streaking down the roadways.
Armed police swept the area for any additional threats, moving from street to street and building to building.
Despite the turmoil and commotion, many bystanders stayed behind to help the injured and to escort out those who could not make their own way through the torrential stampede. 
Steve, a homeless man who was nearby when the bomb went off, was among those who put their own lives on the line to save others, ITV News reported.
One woman who witnessed the "huge bang" at Grande's concert recounts the terrifying moments of its aftermath.
The Islamic State group later claimed responsibility for the attack, praising their own efforts and condemning Grande's "shameless" concert. President Donald Trump responded to the attack by pledging "absolute solidarity" with the United Kingdom, adding, "Our society can have no tolerance for this continuation of bloodshed." Trump further denounced ISIS' actions by saying the "terrorists and extremists and those who give them aid and comfort must be driven out from our society forever."
Mic has ongoing news coverage. Please follow our main news hub here.