Melania Trump pulled away from yet another Donald Trump hand-hold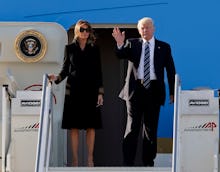 First lady Melania Trump and her husband once again failed a hand-hold on Tuesday, as the couple landed in Italy for the third leg of his nine-day foreign trip.
After exiting Air Force One, President Donald Trump attempted to grasp his wife's hand. She immediately pulled her hand away to brush back hair from her sunglasses.
It's the second time on Trump's first foreign trip as president that Melania has avoided the hand-holding.
On Monday, she swatted Trump's hand away upon arriving in Israel.
A body language expert told Mic that Trump's attempt at hand-holding is more of a power move than a sign of affection. Melania's refusal to take his hand, the expert said, is a rejection of his dominating gesture.