For the next Standing Rock, pipeline fighters have a new tactic: Attack the banks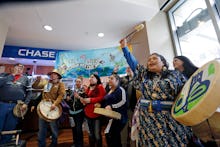 How do you fight a pipeline when the government approves it, big business supports it and megalithic energy companies have seemingly bottomless coffers to defend it? 
You go straight for the wallet.
Since the Standing Rock pipeline resistance, activists are turning to a new and growing tactic for stopping pipeline projects: pressuring banks and investors to take the cash flow away from the funders of those projects.
Residents of Virginia and West Virginia, where the landowners are fighting against the Mountain Valley Pipeline project, are focusing on six banks to target — Bank of America, Wells Fargo, PNC, SunTrust, BNP Paribas and U.S. Bank.
The water protectors fighting for Standing Rock used the same strategy. 
During the pipeline protests, Wells Fargo became a target for those who couldn't make the cross-country trek to the frigid North Dakota plains, staging protests and blocking off bank entrances to shut down offices.
And it wasn't just individuals: Seattle's City Council unanimously voted to pull out of banking with Wells Fargo, diverting $3 billion in cash flow away from the bank.
Though the few actions weren't enough to put a stop to the Dakota Access Pipeline project, there are still a number of smaller pipeline fights. The coalition fighting Florida's Sabal Trail Pipeline have chosen Bank of America as their target for protest and divestment.
In New York and New Jersey, where the Pilgrim pipeline threatens indigenous lands, small towns are asking the state to divest the state's pension holdings away from the management companies behind the project.
Protests can cause daily disruptions, bad public relations and media scrutiny. But draining the money out of an infrastructure project could actually bring it to a screeching halt.