Fox News has retracted a shady conspiracy theory from its website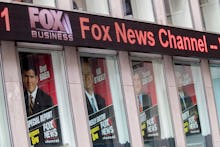 Fox News has removed a week-old story from its website that alleged ties between WikiLeaks and a Democratic National Committee staffer that was found murdered. The story failed to hold up under scrutiny.
"On May 16, a story was posted on the Fox News website on the investigation into the 2016 murder of DNC Staffer Seth Rich," a statement from Fox published online Tuesday read. "The article was not initially subjected to the high degree of editorial scrutiny we require for all our reporting. Upon appropriate review, the article was found not to meet those standards and has since been removed."
"We will continue to investigate this story and will provide updates as warranted," the statement added.
The pulled story involved the death of Seth Rich, a former Democratic National Committee staffer who was killed last July in what police suspect was a botched robbery attempt.  
The story, which cited Fox News contributor and private investigator Rod Wheeler, included explosive allegations of a police coverup and claims of "tangible evidence" proving that Rich was in contact with WikiLeaks prior to his death. The article seemed to suggest that Rich had been killed for being a WikiLeaks informant, piggybacking off old conspiracy theories from right-wing media sites. 
The report received widespread coverage on Fox News and across conservative media over the past week. Fox News host Sean Hannity discussed the conspiracy theory at length, devoting regular segments on his primetime show to discuss the "coverup,"  and anchors on Fox & Friends and Fox personality Geraldo Rivera also referenced the conspiracy theory. On Sunday, Newt Gingrich made an appearance on Fox & Friends, during which he claimed Rich was "assassinated" because of his communications with WikiLeaks. 
Under scrutiny, though, the explosive claims in the article quickly fell apart, and key details of the story were found not to check out. Eventually, Wheeler admitted to CNN that he had not seen any evidence linking Rich to WikiLeaks. 
"I only got that from the reporter at Fox News," Wheeler told CNN at the time.  
NBC News and ABC News had also cast doubt on other key claims in the story.
But Hannity continued to discuss the debunked conspiracy theory. Even after Fox pulled the article, Hannity continued to discuss the story on his radio show and said that people accusing him of peddling a conspiracy theory were "the biggest phony hypocrites in the world."
"The issue is so big now that the entire Russia collusion narrative is hanging by a thread," he added, in reference to the conspiracy.
Hannity did not mention that the story had been pulled from Fox.
Staffers for Fox News have reportedly expressed their disgust with the fact that Hannity and the network continued to devote time to the debunked story.  
Rich's family repeatedly asked Fox News and Fox 5 to redact the story since it was first published and had threatened legal action against Wheeler if he discussed the conspiracy further. On Tuesday morning, Rich's brother sent a letter to Hannity's producer begging him to stop spreading the conspiracy. 
In a statement, Rich's family said the story has caused them "deep pain and anguish." 
"The family would like to thank Fox News for their retraction on a story that has caused deep pain and anguish to the family and has done harm to Seth Rich's legacy," a statement from the family read. "We are hopeful that in the future that Fox News will work with the family to ensure the highest degree of professionalism and scrutiny is followed so that only accurate facts are reported surrounding this case."