Vogue teams up with Birchbox to create a beauty box everyone needs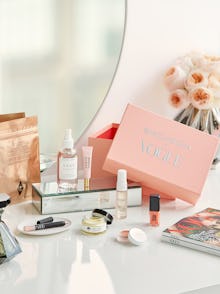 From the rise of women's hemlines to a rise in diversity on the runway, a lot has happened in the world of fashion in 125 years. Most notably, however, is the rise of Vogue as a namesake for what's what in the fashion industry.
That's right, the famed fashion publication, known for its risqué photo spreads and impeccable style advice, turns 125 this year.
To commemorate the publication's quasquicentennial, the iconic brand has partnered with beauty subscription box company Birchbox to create a limited-edition rose-themed box.
Rightfully dubbed "Vogue Anniversary Rose," this beauty box is jam-packed with some of the best products on the market. Each box contains a variety of full-size and travel-size products, including a Charlotte Tilbury facial mask and a bottle of Ouai hair and body oil. There's also a Vogue 1-year subscription offer in the box!  
The box includes exclusive shades from rms beauty, NARS, and JINsoon. Each of these shades is, appropriately, named Vogue Rose and inspired by a peach-colored flower created for Vogue by a group of horticulturists. How cool is that?
The limited-edition box also includes tips on how to use each product from Vogue's beauty director, Celia Ellenberg. She's also one of the masterminds who curated all the rose-themed products included in the box.
The Vogue beauty box is available exclusively on Birchbox. You can purchase the anniversary box here for $68. According to the Birchbox site, the box's retail worth is a whopping $224. 
The box was released on May 23 and will be available while supplies last — and based on the sheer number of phenomenal products included, it probably won't be long!