Sheriff David Clarke tries to dodge plagiarism scandal that might cost him DHS job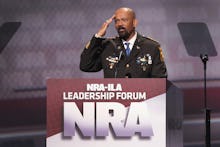 Milwaukee County Sheriff David Clarke, the far-right, Donald Trump-supporting lawman who prematurely announced a job with the Department of Homeland Security last week, is worried a plagiarism scandal that erupted over the weekend could further destroy his chances of sealing the deal.
On May 17, Clarke publicly announced he had accepted a job at DHS, but he apparently jumped the gun — DHS tweeted soon after and suggested the offer was never made official. Then, over the weekend, CNN's Kfile reported Clarke had cited 47 separate sections of his master's thesis in footnotes without using quotation marks.
Clarke embraced the now-ubiquitous conservative explanation that the media is out to destroy him, according to CNN.
"This is about weakening, like I said, the support that I give and that I have with President Donald Trump and [DHS Secretary John Kelly], it's to weaken their resolve to hang in there with me," Clarke told radio host Joe Pags. "Will it be successful? It might, but I'm not going to lose any sleep over that."
On the Sid and Bernie Show, Clarke tried to portray the uncredited sections from his thesis as a mere formatting issue.
"Everything that I put in there had a citation and, naturally, when you accuse someone of plagiarism, it's not citing stuff," Clarke said. "That's not even what CNN and their political hack Kaczynski said. They're saying certain words and phrases I should have put quotation marks around. OK, alright, fine. Maybe from a formatting standpoint the thesis isn't perfect, but the content is there."
Clarke also referred to KFile reporter Andrew Kaczynski as a "hack" and a "sleaze bag" in a series of tweets.
This wasn't the only example in recent news of Clarke taking credit for things he didn't do. Army veteran Charles Clymer recently went on a tear over the array of military-style medals Clarke — who has never served in the military — wore to the 2016 Republican National Convention, saying he wore a "toy uniform."