What Melania Trump wore her 18th week as first lady — her most fashion forward week yet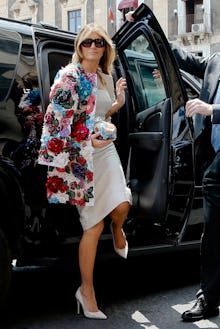 We learned a whole lot about Melania Trump this week. 
Apart from those awkward hand-holding debacles, this was Melania Trump's week to shine, making more appearances during her first trip abroad with her husband than ever before, which also means we got more outfits from Trump than ever before. 
In total, at time of publishing, this week gave us 16 outfits total — that's a record! — which shines a new light onto what her style is really saying. Over at the Washington Post, her early looks this week were described as "controlled" and "self-contained," which isn't inaccurate at all. 
But that being said, she also took risks. She wore more patterns than ever before, as well as colorful coats and decorative shoes. Although a majority of her outfits were predictable — girl loves a black or white dress or coat — she experimented with designers on this trip abroad, not just wearing Ralph Lauren but people like Reem Acra and Stella McCartney. 
Here is what she wore this week: 
Saturday, May 20: A glitzy black jumpsuit for her Saudi Arabia debut 
Trump's first outfit of this first trip abroad was somewhat of a shock. Never one to draw too much attention to herself via her clothes, favoring subtlety over glitz, she revealed herself as someone who may love gold just as much as her husband, cinching a black Stella McCartney jumpsuit with a wide, shiny gold leather belt from Yves Saint Laurent for her arrival in Saudi Arabia. 
The look itself was deemed "seventies-inspired" by Vogue, and indeed between the jumpsuit and the huge gold necklace, it felt a little disco. 
Saturday, May 20: A fuchsia gown with glitz for a dinner 
Later that night, for a dinner honoring Trump's arrival into Saudi Arabia, Trump opted for a fuchsia Reem Acra gown, with a giant diamond collar at the neck. 
Reem Acra is a designer Trump hasn't worn since inauguration, choosing the Lebanese Acra for a pre-inaugural dinner, but not since. 
Sunday, May 21: A khaki shirtdress for touring Saudi Arabia 
Melania Trump had a full day of touring Saudi Arabia's capital, Riyadh, on Sunday, and dressed for the occasion, wearing a utilitarian khaki shirtdress with a signature wide brown belt. 
The dress itself was Ralph Lauren, the belt was Michael Kors and the striped shoes were Manolo Blahnik. 
The belt was also a bit of a recycle for Trump, 'cuz she wore the same one in an Oval Office meeting a few months back. 
Sunday, May 21: A pussy bow (again) for an Arab Islamic American Summit
For the third time, Trump brought out the pussy bow, wearing a black blouse with a pussy bow at the neck underneath a crisp white suit from Dolce & Gabbana on Sunday at the Arab Islamic American Summit. 
Think she knows that that's called a pussy bow? We do. 
Monday, May 22: A loose aqua dress for departing Saudi Arabia
For departing Saudi Arabia on Monday, Trump wore an outfit that was particularly out-of-character for her: A light blue, slightly sheer, loose long dress which is thought to be from either Reem Acra or Valentino.
We actually only got a few minutes of this look because when she touched down in Israel ... 
Monday, May 22: A white Michael Kors suit for arriving in Israel 
... she was already in a new outfit. For her first Israel day, she chose a white suit by Michael Kors, which is a far more typical outfit for Mrs. Trump. 
Monday, May 22: A black sheer Dolce & Gabbana gown for dinner in Israel 
Then for dinner that night with Israeli prime minister Benjamin Netanyahu and his wife, Sara, Trump changed again into a black ruffled and lace dress from Dolce & Gabbana. 
Tuesday, May 23: A white Roksanda dress for leaving Israel 
For Trump's last few hours in Israel, during which she'd visit the Yad Vashem Holocaust Memorial museum in Jerusalem, Trump wore a white Roksanda dress with subtle diagonal lines across it. 
Roksanda is a designer Trump has worn before, choosing the designer, who was born in Serbia and is now based in London, for her speech at the Republican National Convention. 
Tuesday, May 23: A military-inspired D&G coat for her Italian arrival 
So now, by Tuesday, Trump was on her way to Rome, and fittingly she went with Italian designers Dolce & Gabbana for this one, wearing a military-inspired gold and black coat for her grand entrance at Rome's Fiumicino Airport. 
Wednesday, May 24: Dolce & Gabbana again to visit the Pope 
Sense a theme for Trump's Italian days? For meeting the Pope, Trump again went for Dolce & Gabbana, wearing a black lace coat over a black lace dress and, for the first time this trip, obliged the Vatican and wore a head covering.
Wednesday, May 24: A gingham Michael Kors coat for Belgium 
Well this was a new one for Trump. Always one to choose a solid cover over a print, Melania actually wore a patterned coat on Wednesday when she touched down in Belgium, opting for a blue and white gingham coat by Michael Kors, worn as a dress. 
Although Trump could have easily chosen a designer from the country she's visiting — Raf Simons, for example — she didn't. 
Thursday, May 25: A beige leather suit for Brussels 
But on Thursday, she did, wearing a custom leather suit by Maison Ullens, a high-end Belgian designer, along with Manolo Blahnik snakeskin heels. 
Not only that, but Ullens is associated with a charity that provides wigs and accessories to women going through cancer treatment. Amid a sea of simply pretty and stylish outfits, this one now stands out as a sure sign that Trump understands the power her clothes can have. 
And that's a Michelle Obama-esque move if we've ever seen one. 
Thursday, May 25: An off-the-shoulder black dress for meeting with other first spouses
For a dinner with other first spouses from across Europe, Trump wore an off-the-shoulder black lace dress by Dolce & Gabbana that hit just above the ankle, and paired it with a pair of black strappy heels with an embellished flower detail at the back, also by D&G. 
As of now, D&G is one of the very first brands that has proudly dressed Trump, with D&G designer Stefano Gabbana taking to Instagram to chronicle their every look together. 
Thursday, May 25: A black sheath by D&G for her arrival back in Italy 
Trump continued her love affair with Dolce & Gabbana at the end of the night too, slipping into a simple black sheath with straps for disembarking Air Force One in Italy. 
Friday, May 26: A *very* colorful coat for another day in Italy
How's this for a sartorial turn? After a week of black and white dresses and coats, here is Trump stepping out in Italy in the most colorful, elaborate and most expensive (a whopping $51K) outfit we've seen from her yet. 
The coat itself, covered in three-dimensional flowers, is another D&G concoction, embellished within an inch of its life. Oh, and there's a bag to match. Beneath the coat, Trump wore a simple cream sheath with a bit of texture too, also by D&G. 
Friday, May 26: A silver D&G dress for a concert in Sicily
Well, looks like Melania Trump didn't come to Sicily to be a wallflower. To a concert from the La Scala Philharmonic Orchestra in Sicily, where the Trumps are attending the G-7 summit, Trump donned a long-sleeved, shimmering silver dress, with a high neck and a nipped waist. 
According to early reports, it's custom Dolce & Gabbana, with Trump wearing matching sparkly silver shoes to match. 
Overall, this week has been a stunning display of what kinds of risks Trump is willing to take at this point. She wore more color and pattern and sheen during this trip than ever before, and maybe that signals rather than just sticking with her favorite colors and silhouettes, Trump's ready for a style overhaul. 
You can see previous recaps of what Melania Trump wore here.