Who went home on 'RuPaul's Drag Race' episode 10 after a bad makeover?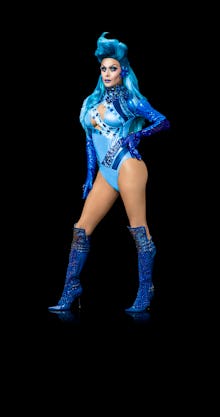 The makeover challenges are notoriously the weak point of any RuPaul's Drag Race season. Each year, RuPaul invites a group of people with a particular theme connecting them — heroes of the Stonewall era, gay veterans, husbands-to-be — and has her remaining queens put them in drag for the first time. It's a solid premise in theory: test the girls' makeup skills and how well they work with one another.
In reality, though, the results are almost always a mess. (Season seven stands out as the exception, when the queens still in competition made over their eliminated sisters.) Even the good entries are busted, while the bad are awful. There's also usually a lot of inorganic, Very Special Episode-esque talk about a major issue that faces whatever group is being made over.
Imagine my surprise, then, that "Makeovers: Crew Better Work" is one of the most delightful episodes not just of this season, but of the franchise as a whole. The challenge is one that clearly comes straight from Ru's heart: Turn the straight, male members of the Drag Race production crew into drag stars.
As soon as she announces this challenge, Ru's queens practically cackle in glee. These aren't unknown figures — these are men who have worked with the contestants every day of this process. Bonds formed off-camera suddenly break through the fourth wall, and the result is sheer joy.
It helps that the guys themselves are such good sports, from the hammy camera operator Sarge to the actually too-cute Rizzo. Shea Couleé and Sasha Velour, last episode's big winners, are tasked with pairing queens with crew, and they do a nice job setting up some winning twins. Of particular note is pairing Sarge with the equally strong-willed Peppermint, and creative queen Nina Bo'Nina Brown with the self-professed artist Aaron.
Every single step of this episode is enjoyable to watch because of the chemistry between the contestants and their makeover subjects. Everyone is in high spirits — well, except Nina, but all the other girls give up on picking her up at the start of the episode — and Ru seems particularly invested. These are her employees and co-workers; it's natural she would be all the more moved. But during the runway presentation, she explains it's about more than that.
"To see you men do this, it says that we as a people are moving forward," she says, seemingly on the verge of tears. "And it's beautiful. Thank you from the bottom of my heart." It's the kind of heartfelt sentiment we see too rarely from Ru, and it puts a wonderful bow on the challenge.
While it's true that the episode is a delight, the results are once again pretty mediocre. It's really just a difficult challenge: Put together your own look, then do the same for your partner, do their makeup, make sure there's a family resemblance, and once you're done with all that, choreograph and teach your partner a lip sync number.
Trinity Taylor fares the best, and she wins the challenge. She's obviously helped by having the partner with the most drag-friendly features — seriously, Rizzo is adorable — but the choreography she comes up with for the lip sync segment is clearly what takes it for her. While a lot of the other girls take shortcuts this episode, Trinity opts for the highest level of difficulty.
While Shea is still looking like our winner, there's a strong argument to be made for Trinity at this point. During pre-season, I ranked Trinity dead last in the crop, and assessed her by saying "someone's gotta go first." She has blown my expectations out of the water, mixing talent and ambition with a killer sense of humor and enormous watchability. In my heart of hearts, I don't think she'll win the season, but I would be totally delighted if she did.
There's not a whole lot to say about the other non-bottom contestants, except to emphasize exactly how enjoyable they are to watch, both in the workroom — sharing their experiences working on the show and offering great respect for what the queens do — as well as on the runway. Sasha Velour's sister Donatella is a perfect, high-fashion match for her, while Sarge's drag persona Winter Green steals the entire show.
At one point, Winter Green has guest judge Kesha doubled over the table in laughter through just her facial expressions. She throws shade at the now-babbling pop singer by merely saying, "Go on," which sends the entire judging panel into hysterics. It's one of the funniest moments of the season. Even if the rest of the episode were much worse than it is, this would make it worth it.
When Ru asks if Sarge would ever do drag again, he goes for the laugh: "Who knows? Season 10?" It says a lot that, for a brief moment, I got excited allowing myself to think it actually possible.
Shea falls into the bottom for the first time ever this episode, after assembling a nearly unprecedented winning streak. It's hard to argue with the result: Her drag sister Bae Couleé looks a mess, with a wonky wig, exposed bra strap and a terrible runway walk. That said, because of Shea's previous success, and because Drag Race just had a shock elimination in the episode prior, it never quite feels like she's in any danger of going home.
She lip syncs ably to Demi Lovato's "Cool for the Summer," an ill-fitting song for a lip sync for your life. It's a skosh too low-tempo and includes a lot of breaks with minimal lyrics, leaving Shea to do little beyond serve face with a bit of choreography. If she had to lip sync this season, it would have been nice to see her on a song that would allow her to demonstrate her dancing ability more. But she actually knows the words, and that's something these days.
In the end, after Nina turns out yet another basic corset-and-boots silhouette on the runway, it comes down to Shea versus Nina in the lip sync. Like Coco Montrese versus Alyssa Edwards before it, this showdown was bound to happen. Shea extended her hand to Nina throughout the season, particularly in a fiery inspirational speech during the fifth episode of behind-the-scenes series Untucked. Nina's self-sabotaging streak came to a head in an explosive fight with Shea just three weeks later. 
Last episode, Shea declared she would distance herself from Nina; meanwhile, Nina had to send home her good friend Valentina. It's no wonder she seems to have no fight left this episode, unable to even celebrate her lip sync victory from last episode. The other girls are frustrated with Nina, and that's understandable. I've been annoyed with her for weeks. But watching Nina realize in the workroom that her fellow queens' grievances with her are legitimate is heartbreaking. She knows she's sabotaging herself, but just can't break the cycle.
Nina heads out the door in sixth place, which is no small feat. It was her time to go, but that should in no way minimize her triumphs this season. Like every person who dares put on makeup and heels and perform proudly as a drag queen, Nina is deserving of nothing but respect and love. Hopefully, she'll grow to know that too.
RuPaul's Drag Race returns with its top five challenge — the ball! — Friday, June 2, at 8 p.m. Eastern on VH1.
Mic has ongoing RuPaul's Drag Race coverage. Follow our RuPaul's Drag Race main hub.