'Overwatch' Anniversary Skins: Lucio, Genji and all the other new outfits from the event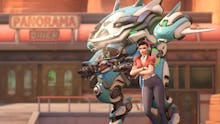 OK, look — we may have jumped the gun a little bit when we said the new Overwatch Anniversary skins looked lame last week. Some of them still do — we're looking at you, Cyborg: 76 — but now that the full anniversary event is here, it's clear this is one of the strongest batch of skins Blizzard has delivered to date.
We've got shiny new images of every single new Overwatch Anniversary skin below, which will be available in-game until June 12.
New Overwatch Anniversary skins for all the characters
Pharah's "Bedouin" skin
Soldier: 76's "Cyborg: 76" skin
D.Va's "Cruiser" skin
Tracer's "Graffiti" skin
Hanzo's "Cyberninja" skin
Mei's "Beekeeper" skin
Zarya's "Cyberian" skin
Bastion's "Dune Buggy" skin
Genji's "Sentai" skin
Symmetra's "Oasis" skin
Lúcio's "Jazzy" skin
All of the above Overwatch skins will be available until the anniversary event concludes on June 12.
More Overwatch news and updates
For more on Overwatch, check out the rest of what Mic has to offer. Here is an essay about how Efi Oladele was a missed opportunity for Overwatch, a deep dive into the issue of sexual harassment in Overwatch voice chat, an unintentionally hilarious infographic showing the most popular Overwatch characters in each state, a criticism of Blizzard's failures in its design of Symmetra and a dive into a cool trend on Tumblr that converts your most-played heroes into a psychedelic illustration.