Instagram deactivated this artist's account — then ignored her for months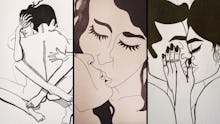 Sarah B. Whalen was just a few hundred Instagram followers shy of her goal. An illustrator, painter and embroiderer who specialized in portraits of sex and human intimacy, Whalen was finally gaining real momentum and recognition. People were messaging her on Instagram, interested in commissioning her work. And then, in February, without warning, as her follower count neared 10,000, all of her hard work was digital dust.
Instagram deactivated her.
The strangest part? Whalen wasn't violating Instagram's rules. 
When the Guardian leaked Facebook's internal guidelines for moderators, we were given a more comprehensive overview of what violates the social media giant's community guidelines. Human nudity isn't allowed, but erotic art — like the images found on Whalen's Instagram — is.
"I do black-and-white ink erotic drawings on paper," Whalen said in a phone interview. "From my understanding, pieces of art you make by hand that you document with photographs are OK."
She's right. According to the internal Facebook guidelines, "all 'handmade' art showing nudity and sexual activity is allowed but digitally made art showing sexual activity is not." 
Whalen started her Instagram page in 2011 while she was getting her bachelor's in fine art. She was using it as a way to document her process leading up to her thesis show. Her account had included a photo-a-day selfie project, photos of her sister and memories of her friends and family dogs. When Whalen's account was deleted, all of these images were now at the mercy of Instagram.
Artists like Whalen depend on Instagram to reach new followers and expand their reach. Instagram is an illustrator's best friend, an open door to a wide community of influencers, fans and potential commissioners. 
Whalen said her intent is to empower women with her art. 
"It's not violent," she said. "It's not sexist. I'm a woman, I make work trying to empower women in their sexuality and I'm very clear about that in the captions."
While Instagram never informed Whalen as to what specifically got her booted from the platform, she said that the last artwork she posted was a black-and-white hand-drawn image of double penetration, which she also posted on her Tumblr.
Instagram has a long history of censoring artists while turning a blind eye to actual porn. Instagram loves to block hashtags wholesale, such as #freethenipple and #curvy, and has been criticized for censoring body-positive images, including female pubic hair and a plus-size woman in underwear. Meanwhile, porn spammers just work around the bans, using special characters like umlauts to post hardcore videos and images.
Instagram must know its algorithm isn't perfect, but the company's transparency leaves a lot to be desired. Whalen inundated the company with sincere messages as to why her account should be reinstated, but Instagram never responded. She was left in the dark, wondering why her account was deactivated to begin with and whether the company was even looking into it. 
"Now that I know what the guidelines are, I find it to be confusing because at no point have I made digital work," Whalen said. "Even though I make sexually explicit work and I make erotic work and my work has been reported, I still fall within their guidelines. So why haven't I gotten my account back and why hasn't anyone even responded to my emails?"
Whalen said that after the Guardian leaked the guidelines, a friend of hers reached out and told her to start emailing Instagram to bring back her account. Whalen had already emailed Instagram every day for three weeks after her account was first deactivated. 
"I just received your no-reply messages to my heartfelt letter to you begging for you to reactivate my account, if only so I can retrieve photos that are only available to me through Instagram," Whalen wrote in a message to Instagram. "This doesn't give me the chance to talk to a human, to actually stand a chance to fight for my work, to fight for my images that I have taken over the years that tel a story of my artistic path, of who I am, my growth as an artist. To send a no-reply message in response to such a heartfelt letter is so cold and impersonal. Is that what the Instagram community values?"
You can read the full letters here. She also posted letters on her Facebook page where she shares her artwork, and reached out to an Instagram employee on Twitter. They never responded. She asked if they could just send her an archive of her images and access to her messages. Radio silence.
Whalen said she knows of other artists who create erotic work on Instagram — not digital artwork — that had had their accounts deactivated but then brought back shortly after reaching out to someone at the company.
"If you're putting your guidelines out there and you are not enforcing the same rules or policies for everyone, then what is it that makes you take it down or makes you get it back?" Whalen said. "If it's knowing someone at Instagram that lets you get it back, that's shitty. For lack of a better word."
At 9 p.m. on Monday, Whalen's account was still deactivated. When we got off the phone on Tuesday afternoon, I emailed Instagram for a comment on why Whalen's account had been deleted if it didn't technically violate community guidelines. Instagram didn't respond. But in under an hour, Whalen said, her account was reinstated. Instagram still hasn't responded to any of our repeated outreach. 
"I felt hopeless," Whalen said. "I felt disheartened by all of it. They don't actually give a shit about you."