This is who Derek Hough thinks will win 'Dancing With the Stars' season 24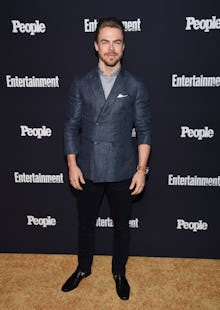 When Derek Hough, a seasoned Dancing With the Stars veteran, revealed he wouldn't be returning for season 24, the record of our lives stopped spinning. But the show must go on, and thankfully, so has Dancing With the Stars.
The contestants of this season have been whittled down to just a handful and the gleam of the mirror ball grows brighter and closer with every ensemble. There's only one episode left — the season finale starts at 8:30 p.m. Eastern on ABC — and Hough has a prediction for who will be crowned the winner.
While Hough hasn't been watching this season with a careful eye, he's seen enough to know who's the best.
"From what I see, Normani is the best, because, you know, she's a dancer, so she's obviously very good," Hough said in an interview. "But David just makes you smile beyond belief."
But it seems Hough might not have his money on Normani, even if he believes she is the most capable dancer.
"And Rashad and Emma — he's great — he's really good. I don't know," Hough said. "This has been a very unpredictable season from what I've seen, and so honestly I don't know. You know, are you going to go with the dancer, are you going to go with the person who's improved a lot, are you going to go with the heart?"
It's hard to argue that each of the remaining dancers have their own merits, but for Hough, there's only one person he truly hopes to see dance away with the mirror ball.
"I will say I'm rooting for Rashad and Emma because Emma's a dear friend of mine, and she's the sweetest person in the world, and I would just love to see her take it home," Hough said.
Mic has ongoing Dancing With the Stars coverage. Please follow our main Dancing With the Stars hub here.