Chicago's "March on McDonald's" takes aim at "the Donald Trump of employers"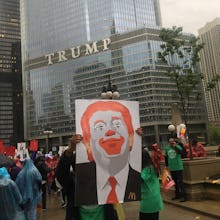 More than a thousand protesters marched through the streets of Chicago on Tuesday evening to fight for a living wage and protest President Donald Trump in the March on McDonald's.
The Women's March, the Movement for Black Lives and other organizations joined Fight for $15 in marching through downtown Chicago, past Trump Tower, to the Rock N Roll McDonald's — the city's flagship establishment. They chanted in support of a living wage and carried signs bearing an image of Trump in Ronald McDonald makeup.
"We're trying to show that McDonald's is the Donald Trump of employers," Jorel Ware, a McDonald's employee from New York, said at the march. "The poverty wages they're paying is ridiculous."
The protest was held to coincide with the McDonald's shareholder meeting, which is scheduled for Wednesday at the company's headquarters in suburban Oak Brook, Illinois. 
Low-wage workers and their supporters came from across the country to protest the corporation and push for a higher wage and union rights — and to challenge Trump, whom protesters say has negatively impacted workers, immigrants, women and people of color.
Adom Getachew, convener of the Resist, Reimagine, Rebuild coalition, said in an interview that the fight for racial justice and the fight for labor fairness must work together.
"Our view has been that it's only when we fight together that we can challenge those in power," Getachew said. "Trump is an extreme version of what we've already been experiencing."
Organizers said they anticipated 10,000 participants. The Chicago Police Department estimated to the Chicago Tribune that about 1,500 protesters marched through the often heavy rains. 
Vernise Taylor, a personal assistant from Chicago, ducked out of the rain into a bus stop just past Trump Tower — to check on a patient of hers.
She said that under President Barack Obama, her wage increased to $13 an hour. But the time before, when she made just $10 an hour, remains fresh in her mind — and she came out to fight because people deserve more.
"It wasn't good," Taylor said of living in Chicago on $10 an hour. "You never catch up."
"We're trying to build up something of our own," Taylor said. 
Then, she put her poncho back on and headed back out into the driving rain to keep on marching.
Several of the signs Tuesday evening made reference to something Trump said in the early days of his unlikely bid for president: "Taxes too high, wages too high," Trump said during a Republican debate in 2015.
That makes Brenda Williams, a Tampa health care worker, more than "concerned" about the Trump administration. 
Williams is a cancer survivor. For the last 16 years, she's provided health care to others while struggling to get health care for herself and her family, she said in an interview. While sometimes living paycheck to paycheck makes her want to give up, she said it's important to fight to make sure that everyone is able to "get a piece of the pie" and the American dream they've been promised.
"I've got to fight for my family," Williams said. "I've got to make my voice heard."
The protest will continue on Wednesday morning outside the company's headquarters.
Larry Cohen, labor chair of Our Revolution and former adviser to Bernie Sanders' presidential campaign, said that McDonald's "golden arches aren't so golden for the people that work there" — and slammed Trump as a "servant" of such corporations.
But the movement for a living wage, Cohen said by phone, is gaining momentum. 
"I think that this is continuing to build. More and more people realize we need to be fighting for living wages in the wealthiest country in the world," Cohen said. "Wherever you are on the food chain of working class America, this is our fight."
May 24, 2017, 10:25 a.m. Eastern: This story has been updated.