Donald Trump is lawyering up in the Russia investigation, hiring attorney Marc Kasowitz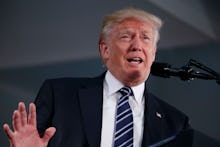 President Donald Trump is lawyering up.
Despite Trump's very public pronouncements that Robert Mueller, the special prosecutor appointed to investigate him and his campaign's widely rumored ties to Russia, will turn up nothing, the president has retained his longstanding attorney Marc Kasowitz to defend him in the case, according to ABC.
Kasowitz, a partner at Kasowitz Benson Torres LLP, has represented Trump over the years in a variety of cases ranging from defamation and restructuring of business debt to allegations of fraud at Trump University, according to the Week and Fox Business. He is both intimately familiar with his client and one of his most trusted legal advisers — a definite plus for Trump, who prefers to rely on a small band of close aides and is notoriously focused on personal loyalty.
Kasowitz was the lawyer who threatened to sue the New York Times in October after it published an exposé on numerous allegations the then-candidate had inappropriately hit on, sexually harassed or assaulted women.
His firm also boasts former Sen. Joe Lieberman, one of Trump's potential picks to replace fired FBI Director James Comey, as a senior counsel. If Trump nominates Lieberman to the post and the former senator is confirmed, the FBI investigation would be being overseen by a man who once worked for the man representing its target.
Trump's decision to seek outside counsel was perhaps inevitable, as White House attorneys represent the executive branch rather than the president personally. But it may also contribute to the scent of blood in the water as numerous more allegations mount concerning the president's alleged ties to the Russian government.