Trump praised alleged death squad leader Rodrigo Duterte's "unbelievable job" on drugs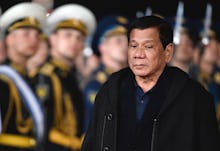 In a phone call with Rodrigo Duterte, the president of the Philippines, President Donald Trump effusively praised Duterte's crackdown on drug dealing — a lawless campaign of vigilante murder and violence which groups like Amnesty International say has left over 7,000 dead since Duterte took office in June.
According to a transcript obtained by the Washington Post, in an April 29 phone call Trump said Duterte was doing an "unbelievable job on the drug problem."
"Many countries have the problem, we have the problem, but what a great job you are doing and I just wanted to call and tell you that," Trump added.
Duterte responded that drugs are the "scourge of my nation now and I have to do something to preserve the Filipino nation."
Trump took the opportunity to suggest a change in policy from his predecessor Barack Obama, who gave Duterte the cold shoulder after the Filipino leader called him a "son of a whore" while warning Obama not to bring up his campaign of extra-judicial killings.
"I understand that and fully understand that and I think we had a previous president who did not understand that," Trump told Duterte.
An unidentified White House official told the Post the president did not intend to endorse Duterte's "individual tactics," but the exchange was just his "way of expressing solidarity over a common scourge."
Duterte, who has been the subject of endless comparisons to Trump, rose to power from the city of Davao in the southern island of Mindanao by promising a heavy-handed response to the nation's endemic drug cartels. Since taking office, that response has taken the form of a ruthless campaign of extermination that human rights advocates say is a murderous war on the poor.
In December, Duterte bragged about personally participating in extra-judicial killings. Witnesses including retired police officer Arturo Lascanas and alleged death squad member Edgar Matobato have claimed Duterte personally directed teams of hitmen to brutally assassinate suspected criminals as well as political opponents, and dispose of the bodies.