Trump meets Pope Francis in Vatican visit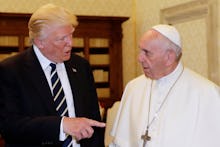 President Donald Trump met with Pope Francis at the Vatican on Wednesday morning to discuss issues including immigration, health care and the Middle East. 
The 29-minute discussion — which was held away from reporters at the pope's request — began on a "somber note," the Guardian reported, and Pope Francis did not exude "his usual warmth and cheerfulness."
In early 2016, Francis sharply criticized Trump for his proposed border wall, saying that a "person who thinks only about building walls, wherever they may be, and not of building bridges, is not Christian."
Trump, a Presbyterian, shot back, calling the pope a "pawn" for the Mexican government and saying it was "disgraceful" for Francis to question his faith. 
"So the Mexican government fed the pope a tremendous amount of stuff about Trump is not a good person. And the pope just — can you imagine? I just got a call, as I'm walking up here," Trump said in a campaign stop in South Carolina. "They said, Mr. Trump, the pope made a statement about you. I said, the pope? What did the pope say? I like the pope. I mean, was it good or bad? Because if it's good, I like the pope. If it's bad, I don't like the pope."
Francis and Trump have also responded differently to the refugee crisis. While Trump has twice tried to enact a ban on refugees from entering the United States, Francis has invited Syrian refugees to live in the Vatican and has repeatedly made the plight of immigrants and refugees a central message. 
Additionally, Francis — a critic of consumerism who was described by Sen. Bernie Sanders during the 2016 campaign as a fellow "radical" — has been at odds with Trump on capitalism, which Trump said in a 2015 interview he'd "scare" the pope into supporting.
"I'd say, 'ISIS wants to get you,'" Trump told CNN. "I'm gonna have to scare the pope because it's the only thing ... they better hope that capitalism works, because it's the only thing we have right now. And it's a great thing when it works properly."
It's unclear if Trump tried to scare Francis during their meeting Wednesday, but the Holy See described the talk as "cordial." 
The meeting focused on "the promotion of peace in the world through political negotiation and interreligious dialogue," according to the Vatican. The pope reportedly presented Trump with a signed copy of his climate encyclical. 
Trump described the meeting as "fantastic" and an "honor." 
"He is something," Trump said of the pope.