Taiwan takes historic step toward same-sex marriage legalization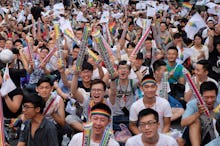 In a landmark ruling on Wednesday, Taiwan's constitutional court positioned the country to become the first in Asia to recognize same-sex marriages.
Previously, Taiwan's civil code had stipulated that marriage must be between a man and a woman. But in a majority opinion, the court ruled that the ban on same-sex unions ran afoul of two articles of the country's constitution that uphold human dignity and equality in the eyes of the law, according to the Associated Press.
The legislature now has two years to either amend the existing civil code or to enact new laws pertaining to same-sex couples.
For LGBT activists in Taiwan — one of the most liberal democracies in Asia, according to the AP — the victory was hard-won.
On Wednesday, hundreds of same-sex marriage supporters gathered outside the legislature near the country's capital, Taipei, to wave flags and blast noisemakers. 
Tarah Demant, Program Director for Amnesty International's Gender, Sexuality, and Identity Program, said the hope is that the court's decision is the beginning of a broad trend "not only for Taiwan, but the entire region."
"There's broad homophobia globally, and Asia is no exception," she said in an interview Wednesday. "In the face of what can feel like growing discrimination, growing nativism, a growing sense of people doubling down on anti-human rights protectionist policy, this is a step forward towards human rights for all people and not just for a certain class of people."
Polls show that a majority of the Taiwanese public supports same-sex marriage, as do both the current ruling and major opposition parties. A bill to enforce the ruling is already making its way through the legislature, the AP reported.