Milo Yiannopoulos calls Ariana Grande "pro-Islam," "anti-America" after Manchester attack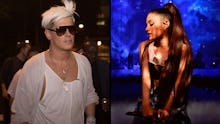 On Wednesday, Milo Yiannopoulos posted a statement on Facebook, calling out Ariana Grande for not condemning the attack at her concert in Manchester, England. Shortly after the bombing, ISIS claimed responsibility for the attack. The conservative blogger and personality said the singer has a "unique chance" to "strike a blow against Islamic terror in culture."
"Little girls are being killed thanks to a murderous ideology," he wrote. "Why won't Ariana Grande condemn it? It's a supreme act of cowardice. She has a unique chance: this is the first opportunity to strike a blow against Islamic terror *in culture*. She could be a cultural icon for generations. She owes it to her dead fans. So why won't she act?"
This is at least the second Facebook post in which the noted leader of the alt-right movement has criticized Grande. In a Facebook post he published on Tuesday, he accused Grande of being "pro-immigrant, pro-Islam and anti-America."
"Sadly, Ariana Grande is too stupid to wise up and warn her European fans about the real threats to their freedom and their lives," Yiannopoulos wrote. "She will remain ferociously pro-immigrant, pro-Islam and anti-America. Makes you wonder whether they bombed to attack her or in solidarity."
The conservative personality also likened Grande to Women's March organizer Linda Sarsour, a common target of Islamophobic smears, for her social justice activism.
Several Facebook commenters expressed disgust with Yiannopoulos' remarks. 
"People got murdered at her concert and she had to bear witness to it. I think that's enough shit talk about her for now," Shane Tompkins, whose Facebook timeline lists him as a service member of the U.S. Navy, wrote. "Regardless of her past, no one is gonna come out alright after seeing shit like that."
Jason Healy, another Facebook commentator, said Yiannopoulos was exploiting the deaths of children for publicity. 
"That's low Milo, even for you," Healy wrote. "The depths you will go to for a bit of publicity. On the backs of children. You sir are a disgrace. Kids' deaths shouldn't come into a spat between you and a singer."
The pop singer sent out a tweet the night of the attack. "Broken," Grande wrote. "From the bottom of my heart. I am so so sorry. I don't have words."
In July 2015, Grande made headlines after video footage surfaced of the singer, accompanied by two friends, licking unpurchased doughnuts at a doughnut shop. "I hate Americans," Grande reportedly said. "I hate America." Grande apologized in a statement for her "poor choice of words," and clarified her comments were a snide joke about the obesity epidemic in the United States.
"I am EXTREMELY proud to be an American and I've always made it clear that I love my country," she wrote in her statement. "[...]As an advocate for healthy eating, food is very important to me and I sometimes get upset by how freely we as Americans eat and consume things without giving any thought to the consequences that it has on our health and society as a whole."