What does 'Dancing With the Stars' 2017 winner Rashad Jennings get as a prize?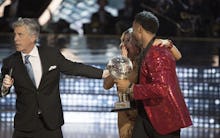 It's all over! Dancing With the Stars has come to a close after a star-packed finale complete with truly surprising results. Despite having been in the mid-to-upper echelon score-wise for the majority of the season, Rashad Jennings pulled out a series of perfect dances late in the game, and came in first place.
Shockingly, Normani Kordei, the contestant Carrie Ann Inaba said was "born to win this competition," didn't even make it into the final two. But that's a story about popularity contests for another time. 
Jennings' victory was well-deserved, especially because he was not "born to win this competition," but achieved it by working tirelessly, and always pushing himself to do better every week. He's an excellent example of how it's possible for effort and ambition to take you all the way. And Jennings finally won something for the first time in his life!
So, of course, as winner of the 24th season of Dancing With the Stars, Jennings and his partner Emma Slater get to take home the Mirrorball Trophy, and enjoy being celebrated by friends and fans around the world. 
But that's not all they get. While there is no declarative cash prize, according to a 2010 report conducted by the late Gawker, contestants make more money the longer they stick around in the competition. 
Here's what the sliding salary scale looked like seven years ago:
Contestants got a $125,000 initial lump sum for signing onto the show and participating in the first two episodes. After that, they received $10,000 for episodes three and four, then $20,000 for five and six, then $30,000 for seven and eight, until the final two episodes of the season, for which they earned $50,000 a show. This means that all three finalists were making the same amount of money, which seems fair considering they all appeared in that final episode. 
According to a pitch letter sent to a potential season 22 contestant that was released by RadarOnline, this pay scale was still being used back in 2015, but it's unclear whether or not it's been updated since. 
So based on those figures, Jennings ended up getting the Mirrorball Trophy, a heck of a celebration on live television, and a potential $345,000 for making it to the end, along with Normani Kordei and David Ross. Not too shabby a way to start off the summer.
Mic has ongoing DWTS coverage. Please follow our main DWTS hub here.