Tips that pay off: The best places on earth — for you to live, vacation and thrive in.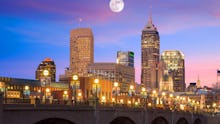 Location is everything. Whether you're figuring out where to buy, rent or vacation, it's important to base the decision not only on where your friends and family are, but also on your financial situation, goals and passions. That being said, it can be a real struggle to find a place that is convenient for your job and satisfies your need to be nowhere near your office on the weekend. 
Don't worry, there's a place for everyone in this vast world — even if there wasn't in your studio-slash-closet in Manhattan or in the dark days of your high school tenure. We'll let you in on some pro finance and travel tips to help you determine the place for you.
Before you figure the rest out, take a vacation that won't give you financial anxiety. While some of the cities on the list may initially surprise you — since they have reputations for high costs — the truth is savvy travelers can find great deals in these places if they plan ahead, blending value and fun.
Each spot has its own flavor and appeal, but activities are wide-ranging; any traveler can find something engaging and intriguing to do in any one of these major cities. Here are 10 of the top vacation destinations to check out, plus a few ideas for how to have an affordable trip that feels deceptively luxurious. 
Need to narrow down where to go even further? We compared the cost of a weekend in Los Angeles vs. New York based on restaurants, tourist attractions, Uber and all. Go on an urban adventure and tell all your friends your best coast verdict.
ATTN creatives: You might wonder if you're living in a city that gives you the best shot at long-term success. As it turns out, some cities are better at nurturing creative talent than others, thanks to a preponderance of everything from arts schools to creative jobs.
While some are obvious, which if you took tip No. 2 to heart you would know, but there are a number of surprises that make the cut. Expand your horizons and check out the top 10 creative U.S. cities.
Despite what avocado toast eschewing millionaires would have you believe, many young folks are buying houses and apartments — but it depends on the city.
So where can aspiring homeowners catch a break? We combined two sets of extensive research, by Zillow and Trulia, to compile a definitive list of the top five cities where millennials are financially thriving, particularly if they want to buy a home.
Want to live abroad? It pays to be picky. For example, Bermuda and the Bahamas are among the most expensive nations in the world, according to a recent analysis from GoBankingRates, but if you pop down to Belize, you can enjoy rent that's almost 90% cheaper than the rents in New York City, with picturesque beaches and world-class snorkeling to boot.
Here are the 10 cheapest countries that make the cut. And if you're really serious about moving abroad? Check out Mic's guide to traveling and working overseas.
Sign up for The Payoff — your weekly crash course on how to live your best financial life. Additionally, for all your burning money questions, check out Mic's credit, savings, career, investing and health care hubs for more information — that pays off.