Patrick Swayze almost didn't star in 'Dirty Dancing' because he was advised not to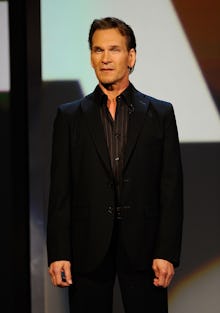 It is hard to imagine Dirty Dancing without Patrick Swayze, but that was almost the case. 
In an interview with Barbara Walters in 1988, the actor revealed that he wasn't initially inclined to join the movie. "I was advised not to do it," he revealed to Walters. "In the reading of it, if you didn't really look between the lines it was a cutesy little movie."
While the film is a classic dancing movie that revolves around an adorable romance, there is much more to Dirty Dancing. In the movie, Swayze's character, Johnny Castle, is the dance instructor at the resort Baby Houseman is staying at. He begins teaching Baby dance lessons and a romance blossoms between them. 
The movie takes a look at class divides — Baby comes from a very affluent family and Johnny does not. It causes a riff between them when he's misunderstood and ridiculed by her family for being lesser than. Ultimately, Johnny proves himself and proves everyone else wrong.
The movie also deals with the subject of abortion. Johnny's original dance partner before Baby, Penny, is pregnant and decides to get an abortion. The plotline was so controversial then, it was almost entirely excluded from the film. Including heavier topics like abortion and class division gave Dirty Dancing more weight than expected. 
Swayze was attracted to Johnny's struggle and passion and felt like he could do something with the character. "Then why did you do it?" Walters asked. "I felt something for Johnny, a guy from the streets," Swayze revealed. "Fighting to like himself. To believe in himself. To believe he can be something more than what society will allow him to," he said. 
As a result of the massive success of the movie at the time, Swayze became an instant heartthrob. When asked what he wanted his new fans to know about him, Swayze just wanted people to know he was a good actor and hopes audiences were inspired by his performances. 
"I can give people something through my work that they can see. That makes their lives lighter for a moment. Or inspired. Or passionate about who they are and feeling good about themselves," he said. He also added, "And I can definitely swing my butt."
ABC aired their remake of Dirty Dancing on Wednesday with newcomer Colt Prattes taking over the iconic role of Johnny Castle. Abigail Breslin starred alongside Prattes as Baby Houseman. 
Mic has ongoing movie coverage. Please follow our main movie hub here.