Navigating Trump's America: Three key events in the Donald Trump-Russia investigation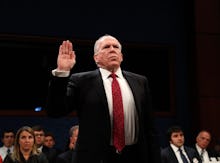 President Donald Trump has secured an outside attorney to represent him as a special counsel begins to investigate alleged Trump-Russia ties. Marc Kasowitz will represent the president. A longtime attorney for Trump, Kasowitz has defended Trump from allegations of fraud, including Trump University. Kasowitz also threatened to sue the New York Times after it published a story alleging Trump sexually harassed or assaulted women.
Trump may come to need Kasowitz's help. During testimony on Tuesday, former CIA Director John Brennan was asked by the House Intelligence Committee whether there was evidence of collusion between Trump's campaign and Russia. Brennan said he saw evidence of "contacts and interactions between Russian officials and U.S. persons involved in the Trump campaign." He added he had not seen evidence of collusion, but that the evidence warranted further investigation — the first time he made such a statement publicly.
With Michael Flynn ignoring a subpoena, Senate Intelligence Chairman Richard Burr (R-N.C.) is seeking other ways to force information out of Trump's former national security adviser. Burr said Flynn could be held in contempt of Congress if he does not respond to the committee's subpoena. To cajole other information out of Flynn, the committee issued two new subpoenas on Tuesday that targeted Flynn's businesses.
The goal is to find evidence of Flynn's connections to Russian officials. The Senate committee's leaders believe Flynn cannot invoke the Fifth Amendment to protect documents — setting up a potential showdown in a Senate hearing. Burr said recently his committee has interviewed 30 people in the inquiry, but that the investigation could drag on for months.
These stories resonate with the public. Trump-related Russia scandals were gold on Facebook for media companies, which published stories that were seen by a near-record number of people last week.
This is Mic's daily read on Donald Trump's America. Welcome to the political newsletter that is anxiously awaiting yet another CBO score. 
What we're watching
Today: The president has hired outside counsel to defend him in the probe into ties between his campaign and Russia.
More: The Senate is pursuing Michael Flynn, and the former CIA director says there's evidence of Trump-Russia connections worth investigating.
Even more: On Trump's budget.
Trump's agenda today: Trump met with Pope Francis today. Pictures suggest it did not go well. He also met with Italy's president and prime minister. Trump flies to Belgium.
The president's budget
Trump's first budget, largely a plan to hack spending on social programs and boost military cash flow, was roundly panned by Congress on Tuesday. As expected, the statement of the administration's priorities doesn't push forward any congressional agenda items. With that said, it's worth a further examination of what the budget proposes and how it will shape Congress' budget negotiations.
Trump's budget does not incorporate his tax plan, suggesting he has backed off some of his largest tax cut promises. The budget also assumes 3% economic growth, a level many economists believe is not possible — and also assumes there will be no recession in the next 10 years. (The United States has never gone two decades without a recession.)
On infrastructure, instead of the $1 trillion Trump pledged to spend on the campaign trail, his budget proposes $200 billion toward public-private partnerships to rebuild roads and bridges.
Killing the public service loan forgiveness program could leave 550,000 people in limbo, and millions more who are eligible for the program may never get access to it. My story on that here. And yes, this budget continues the GOP crusade against Planned Parenthood.
In case you're wondering what Hillary Clinton thinks: The defeated presidential candidate said Trump's budget displays "unimaginable cruelty."
Two more Trump items:
The latest from the Vatican: Pope Francis gave Trump a copy of "Laudato Si," a document the pope wrote outlining the dangers of consumerism, irresponsible development and, most of all, global warming. Francis also gave Trump this year's World Peace message about nonviolence, adding, "I signed it personally for you."
The latest on health care: The Congressional Budget Office will release its updated score on the American Health Care Act on Wednesday. That could send a shockwave through the Senate; the last score said 24 million Americans would lose or drop off their health insurance under the initial version of the AHCA.
News and insight you cannot miss:
•  Democrats have long been critical of the way the GOP has shaped health insurance behind closed doors, but now some Republicans are tiring of the policy too. "There are no experts" in the room, said Sen. Bob Corker (R-Tenn.) of his 13 colleagues meeting to reform the Affordable Care Act.
•  Donald Trump and Barack Obama both visited Israel's Holocaust memorial as president. The messages they left in the guestbook were very different.
•  Trump praised the president of the Philippines — an authoritarian leading a violent crackdown on drug dealing that has killed 7,000 people in a year — for doing an "unbelievable job on the drug problem."
•  The first lady has pulled away from holding Trump's hand twice in two days.
•  The United Kingdom has upped its terror threat level to "critical" — the highest level — in the wake of the bombing at a concert in Manchester, England. That suggests another attack is imminent. Here's a timeline of attacks in Europe since 2015. Some have no link to the Islamic State group.
•  Standing Rock activists have a new tactic: attack big banks that finance pipeline projects.
•  A data scientist has created a way to literally hear income inequality in New York City. You need to take a listen.