Who sings "Hungry Eyes" from 'Dirty Dancing'? What you didn't know about the song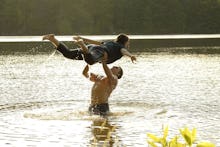 If you hate-watched the Dirty Dancing remake, then you may have wondered who sang those watered-down covers on the soundtrack. While the ABC remake could have stopped at blandly rehashing the plot and characters of the 1987 movie, it also chose to blandly rehash the original's Oscar-winning music. Still, the story behind the "Hungry Eyes" cover might surprise you.
Who was on the original soundtrack? 
The original Dirty Dancing soundtrack spawned the enduring, widely recognized singles "(I've Had) The Time of My Life," "She's Like the Wind" and "Hungry Eyes." Patrick Swayze, who starred alongside Jennifer Grey in the original, performed "She's Like the Wind," while songwriting trio Franke Previte, John DeNicola and Donald Markowitz won an Oscar for penning "(I've Had) The Time of My Life." 
Who sang "Hungry Eyes"?
Eric Carmen, original writer and singer of the mopey, self-absorbed masterpiece "All By Myself," performed "Hungry Eyes" on the original 1987 soundtrack. He had been the lead singer of boy band The Raspberries before going solo in the '70s with "Never Gonna Fall in Love Again" and, of course, "All By Myself." 
"Hungry Eyes" shot to No. 4 on the Billboard Hot 100 chart and catapulted Carmen to produce his last major hit, 1988's "Make Me Lose Control," which landed at No. 3.
Who sang the 2017 cover?
Greyson Chance, formerly known as the viral star who brought the house down when he performed Lady Gaga's "Paparazzi" at a sixth grade talent show, is now an accomplished singer-songwriter. With two EPs and a full-length album under his belt, Chance has established himself enough to be included in the Dirty Dancing soundtrack as the singer of "Hungry Eyes." 
Check out his music video featuring former Jennifer Lopez sidepiece Casper Smart dancing with a cane.
Mic has ongoing TV coverage. Please follow our main TV hub here.