It's Nicole Kidman's 2017 — and we're just living in it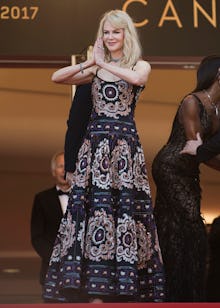 Chances are, you've had a shit 2017. It's understandable, with a new national crisis arriving every single day, and a general sense of anxiety that is both constant and overwhelming. 
But there has just been one, shining, beautiful light throughout 2017, manifested in the form of one of the greatest actresses and women who has ever lived: Nicole Kidman. 
This is her year — to shine brighter than ever before, both on-screen and on the red carpet. Yeah, you might be having an emotional breakdown every single day, sobbing into your desk salad while watching old Michelle Obama speeches, but Nicole Kidman is ruling this shit. 
Not even halfway through 2017, she has been at the root of viral clips, some of the red carpet's best moment as well as some of the best TV this generation has seen. So, as a little reprieve from the living, breathing hellscape we are all trying to survive, let's break down how Kidman has effectively become the only good thing about us all living through the year 2017. 
The clap
So, listen, just because Kidman's had a better year than you doesn't mean she's been exempt from a few internet crises. First up, there was the clap. 
Blame a wide-angle lens or, as Kidman recently told Ellen Degeneres "the expensive jewels," but a few-second clip of Kidman clapping and looking like if Slenderman mated with the Grinch at the Oscars went viral in February. 
But because of her, and those mysteriously long fingers, we were able to forget that we, too, have to live through 2017. 
Bless you, girl. 
Big Little Lies 
Where to even begin? On the HBO show Big Little Lies, which she starred in alongside fellow queens Laura Dern, Reese Witherspoon and Zoë Kravitz, she played Celeste, a woman who's fighting her way through an abusive relationship. 
She put on a performance so spectacular that, rather remarkably, everyone on the internet forgot about "The Clap," and starting focusing on the greatness that is her, which is evidenced in this perfect tweet: 
The Big Little Lies sisterhood
And not only did Kidman give us Big Little Lies, but she also introduced us to the all-important Big Little Lies sisterhood, which has further proved that female friendship is one of the most powerful, necessary and joyful things on planet earth. 
In countless interviews, Kidman gushed about Witherspoon, Witherspoon gushed about Dern, Dern gushed about Kravitz, and so on. And we loved every second of it. 
Take a second to look at this picture: 
And this one too: 
So pure. How can there be such evil in this world while a woman like Kidman  — and her friends — inhabits it? 
The Giada shade 
Again we ask: Where to even begin? Just two weeks ago, Kidman made the internet a better place. 
It all started when Kidman was on the Ellen Degeneres Show, and was asked to be a part of chef Giada De Laurentiis's segment. So, Giada is cooking and Kidman is wholly doubtful of everything, and then at the end she yanks a bite of some of the apricot pizza De Laurentiis just made and announces, "It's a little tough." 
And then does this: 
And then says: "I know you're not meant to criticize, but it's a little tough." 
People loved it. Who knew Nicole Kidman invented being honest? 
Her Cannes red carpet looks 
Other than ruling television and viral moments, Kidman as of late has also ruled the red carpet. That's been most obvious at Cannes, where over the past few days, she's put on a show. 
Like here, in this Calvin Klein: 
And here in this Dior: 
And here in this Versace: 
And here in this Rodarte: 
Besides maybe Rihanna, Kidman's looks have been the most spectacular yet. 
Her championing of female directors 
Not only has Kidman taken Cannes as an opportunity to rock red carpet, but she's also taken it as an opportunity to support her fellow women in film. 
At a press conference for her latest film The Beguiled, directed by Sofia Coppola, Kidman called out Hollywood's sexism problem. 
"Still only about 4% of women directed the major motion pictures of 2016," Kidman told the crowd. "That there says it all. I think that's an important thing to say and keep saying. Luckily we had Jane Campion and Sofia here. We as women have to support female directors, that's a given now. Everyone is saying it's so different now — but it isn't. Listen to the statistics." 
And in an interview with the Sydney Morning Herald at Cannes, she made a pledge to work with more female directors. 
"I think it's necessary to say that every 18 months I'll make a movie with a female director," she said. "Because that's the only way statistics will change when other women start to go, 'Oh, I'm actually going to choose only a woman now.' So every 18 months there has to be a female director in the equation."
How good we're expecting The Beguiled to be 
Now this is a little bit of premonition, but speaking of The Beguiled, we're expecting that to be another major moment for Nicole Kidman's 2017. Judging by the trailer, it's a dark story involving Kidman's character as the head of a house of women. Then a man intrudes and ruins everything. Typical. 
With Kidman's year going the way it is though, between this movie and Top Of the Lake, which she will be premiering in September, 2017 is shaping up to be her year — despite it absolutely not being ours.