US travelers can now book flights to Europe with Ryanair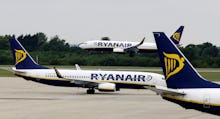 Irish airline Ryanair, which is known for its affordable flights throughout Europe, is expanding with long-haul flights. On Tuesday, the company announced that it would begin offering flights to and from the U.S. through a partnership with Air Europa, a Spain-based carrier. 
Customers can now book the Air Europa flights through Ryanair's website. There are 20 available routes between Madrid and countries including the U.S. Argentina, Mexico and Bolivia.
"Air Europa offers an extensive long-haul network from Madrid, while Ryanair has over 50 short haul routes to and from Madrid," Cillian O'Brien, communications manager for Ryanair, said in an email, explaining that demand has increased for long-haul flights. He noted that the flights are not code shares, but instead are independently operated. 
The partnership doesn't mean a whole lot for customers right now, but it could soon make getting to, from and around Europe easier for American travelers. O'Brien noted that later this year, customers will be able to connect from Air Europa long-haul flights through Madrid to Ryanair flights.
Ryanair's site allows travelers in the following cities to book direct flights to Madrid: 
• Miami
The current price of a round-trip flight from Boston to Madrid in August is 416.09 pounds, or approximately $538.