Richard Collins III, Jordan Edwards prove respectability politics won't save black lives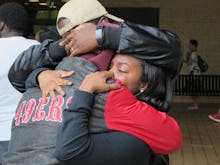 The most indelible image from this week's spate of graduation ceremonies was a black commencement robe draped over an empty chair.
The robe belonged to Richard Wilbur Collins III. On Saturday, the 23-year-old black Bowie State University student was stabbed and killed by Sean Urbanski, a white 22-year-old student at neighboring University of Maryland, while he was waiting for an Uber ride in College Park, Maryland.
Collins' robe was displayed Tuesday to memorialize a student who was, by all accounts, a model human being as well. He was a commissioned second lieutenant in the U.S. Army. He was a lauded Reserve Officer Training Corps member who "would go out of his way ... to go and help others," Collins' father, Richard Collins Jr., told NBC News.
"[A] former commander of his unit ... [expressed] to me that if she had a son, Richard is the model of what she would hope her son would be," the father said.
But none of these accolades prevented Collins' death. His killer — Urbanski — was as unconcerned with how good a person Collins was as any other white killer who has stolen a black life in the course of U.S. history. Black children are fed the narrative that certain behaviors will keep them safe from white violence: doing well in school, dressing properly, avoiding conflict, obeying authority. And yet time and again, the same truth reasserts itself: These respectability politics will not save us.
This has become increasingly clear in recent weeks. Between Collins and Jordan Edwards — a 15-year-old black honor roll student who was shot and killed by Balch Springs, Texas, police Officer Roy Oliver on April 29 — even the most decorated black lives exist perilously close to death at the hands of white fear, white anger and white misunderstanding.
Meanwhile, their deaths are justified through impeachments of black character after we are killed. It's still easy to defend killing black people by describing the ways they failed to placate white anxiety — by not obeying orders, like Sam Dubose; by being too big and imposing, like Terence Crutcher; by refusing to back down when accosted, like Trayvon Martin. And white fear of unarmed blacks remains a plausible excuse for jurors and observers deciding whether armed police officers or vigilantes were justified in shooting them. 
The details are still unclear regarding Urbanski's precise motive. According to reports, he was a member of a Facebook group called "Alt Reich: Nation," in which members shared disparaging posts about women, Latinos, Jews and black people. The affiliation has led authorities to consider a hate crime investigation. But the New York Times reported that administrators claimed the group was satirical, and was created to ridicule the alt-right.
"I condemn those who believe in white supremacy," Alex Goodman, one of the group's administrators, told the Times. It's unclear whether Urbanski interpreted this "satirical" racism the same way.
Nor did Urbanski say anything explicitly racial when he attacked Collins, per reports. He shouted, from a distance, "Step left if you know what's best for you!" and stabbed the black 23-year-old through the chest when he did not obey. Urbanski's attorney said his client might have been intoxicated at the time of the attack. The 22-year-old has been charged with first- and second-degree murder.
Down South, Oliver killed Jordan Edwards in a similarly sudden outburst. He fired his service rifle into a car full of unarmed teenage boys, one of whom, Edwards, was struck in the head and killed. Oliver's initial story was that the boys were driving toward him in a threatening manner — a story that might have been accepted without question had body-camera footage not shown them actually driving away from the officer. Oliver has been fired and charged with murder.
In both cases, the victims' families and communities are left crestfallen over their respective tragedies. Stunned parents and friends wonder aloud how such bad things could have happened to such good kids. These black boys did everything right, it seemed. They were the gold standard of academic achievement and behavioral propriety — facts that certainly don't make their lives more valuable than others, but that matter nonetheless because they were qualities they were taught would protect them.
"He was not a thug," Chris Cano, the father of one of Edwards' football teammates, said, as if this fact has ever really mattered in the United States. "This shouldn't have happened to him."
All of which begs the question: What protection do black people really have if respectability won't shield us from white violence? If we do everything we're told would have kept Michael Brown and Trayvon Martin alive, but still get killed, what are we actually left with? The answer, in this case, is two more dead black boys, a set of devastated communities, friends and family members, and an empty chair with a graduation robe draped over it.