How to create custom Snapchat stories and use the new group moments feature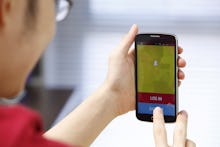 Snapchat introduced a new way its user base around the world can share on the social media platform on Tuesday: custom Stories. Custom Stories give users full control over everything — you can decide who can view the Stories, who can contribute to them and you can even select a Geofence. Here's how it works:
How to use Snapchat's Custom Stories
To use, go to the Stories page and select the plus sign — the "Create Story" icon — on the upper right corner. This brings you to a page that lets you customize how you want to share and with whom. At the top of the page, add a name for the story.
Then tap on "Who can add," select people who can contribute images and videos to the story, and click on the check mark icon on the bottom right corner to lock it down. This adds those individuals to the "Who can view" list — but you can also tap on "Who can view?" to broaden the audience. When you've made your selections, click on "Create Story" at the bottom.
You can also opt to invite contributors based on geographic location. After you've named your custom Story, turn on the Geofence option. This will take you a page with a map that identifies your location and creates a "block in circumference." In other words, it generates a perimeter around your location, which cannot be increased or decreased. A Snapchat spokesperson told Mic the radius is roughly the size of a city block. You have two options for "Who Can Add" — friends or friends of friends. As for who can view, all your friends within the geofence can view the Story.
When you go back to the Stories Page, your custom Stories will appear under My Story.
You can select the "share to story" icon next to your custom story title from the main page. And when you take a picture or video from the camera, pressing the "share to story" icon will now trigger a menu that lets you decide if you want to share it to your story or a custom story or all of the above.
Is there a limit?
As a contributor, you can be a part of any number of custom Stories you want to be on — it's unlimited. But as far as creating them, Snapchat has a three custom Stories limit per person for any given time.
How long do custom Stories last?
"These Stories will appear just like other Stories currently do on the Stories page and will disappear if no one has contributed to the Story in the past 24 hours, or if the creator deletes the Story," a Snapchat spokesperson told Mic.