This is what Cannes Film Festival goers think about the new Netflix film 'Okja'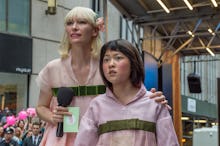 One of the most buzzed-about films to premiere at the 2017 Cannes Film Festival is Netflix's Okja.
Okja is one of Netflix's two films competing at the festival. The Meyerowitz Stories is the other film in competition for the Palme d'Or which is the festival's top prize. Adam Sandler is currently earning rave reviews for his performance in the film and both have a chance at winning the award.
The film had a rough start at Cannes when it screened at the festival. First, the audience booed at the Netflix logo at the beginning of the film. This was a result of the tension between the studio's appearance at the festival and the debate over streaming vs. theatrical releases. Then, for the first 10 minutes of the movie, it was playing in the improper aspect ratio, which caused the audience to boo again.
The film ended up playing without any hiccups and the festival apologized for the issue. In the end, the film ended up receiving a four-minute standing ovation from the audience.
Okja is from visionary director Bong Joon Ho who directed movies like Snowpiercer and The Host. With Okja, Ho tells the story of Mija and her best friend Okja, a huge animal who is at risk of being kidnapped from a very powerful company. Mija risks her life to save her best friend.
The film stars Seo-Hyun Ahn in the role of Mija. Alongside Ahn, Paul Dano, Tilda Swinton, Steven Yeun, Lily Collins and Jake Gyllenhaal are also part of the cast.
Those festival goers who saw the movie had a very strong reaction, with many giving it rave responses for its weird, original and surprisingly emotional aspects.
Okja arrives on Netflix on June 28.
Mic has ongoing Cannes coverage. Please follow our main Cannes hub here.