'Overwatch' Anniversary Checklist: How to get everything in the event you want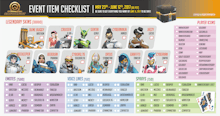 If you're like us, the new Overwatch Anniversary event can be overwhelming with how many amazing skins and dance emotes there are to grab in such a limited time.
To help organize and plan, Reddit user IzzePizze has come through with another checklist of all of the new releases for this event. They've done other printable checklists for Overwatch events in the past.
Overwatch Anniversary Checklist: Here's how to get it
If you're interested in getting one of these checklists for the Overwatch Anniversary event, we've got you covered. IzzePizze has graciously provided the internet with two versions. 
You can click here if you'd like the printable version that's formatted to letter paper or you if you'd like a clickable PDF version, they've provided that as well.
Get out there and start saving that in-game currency for these fantastic cosmetics.
More Overwatch news and updates
For more on Overwatch, check out the rest of what Mic has to offer. Here is an essay about how Efi Oladele was a missed opportunity for Overwatch, a deep dive into the issue of sexual harassment in Overwatch voice chat, an unintentionally hilarious infographic showing the most popular Overwatch characters in each state, a criticism of Blizzard's failures in its design of Symmetra and a dive into a cool trend on Tumblr that converts your most-played heroes into a psychedelic illustration.