'Bloodline' Season 3 Release Time: When to watch new episodes on Netflix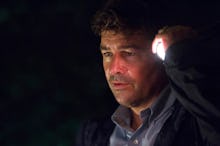 The log line for the upcoming and final season of Netflix's hit series Bloodline is as intriguing as it is definitive: "The lies that bind come to an end May 26."
If that's the case, season three certainly has its work cut out for it. Over the past two seasons, the Rayburns have been burying themselves in lies that could be detrimental to them if they're uncovered. A log line like the one above suggests audiences are in for a series of thrilling episodes this season. 
According to a Netflix press representative, the explosiveness will begin at exactly 12 a.m. Pacific and 3 a.m. Eastern on Friday, May 26. For those who can't wait to find out if John Rayburn has left the Florida Keys for good, however, here's a little preview from the first episode of season three.
Looks like John's got another screw-up brother whose tracks he needs to cover. If he's not careful, John's compulsion to help his family might keep him trapped in the Keys forever. Whether that's in a genuine prison or one of his own making, however, remains to be seen. 
For those who have no idea what Kevin's talking about in the above clip, here's a brief rundown of what happened at the end of season two.
Kevin knew that Marco Diaz was getting close to figuring out who killed Danny, so, in order to avoid jail time, he went to Marco and tried to tell him John was the actual murderer. Unfortunately Marco wouldn't listen, which riled Kevin up to the point where he beat Marco to death with a dolphin sculpture. Now Kevin has a body to dispose of, and a rather important one at that. 
Based on the clip above, it appears the show starts up again right where it left off. Kevin's on the phone with his brother looking for help, but first he made the not-so-bright decision to bring wealthy business mogul, and likely crime kingpin, Roy Gilbert into the situation. No doubt that'll just be one more thing Gilbert can use to manipulate the Rayburns into doing whatever he wants.
It's safe to say the Keys are about to get way less quiet. 
Mic has ongoing Netflix coverage. Check out our main Netflix hub here.