'Pirates of the Caribbean 5' Reviews: What are critics saying about Johnny Depp's sequel?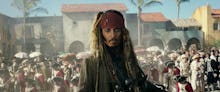 Johnny Depp is back with another Pirates of the Caribbean sequel, and this time Javier Bardem joins in on the fun. 
In Pirates of the Caribbean: Dead Men Tell No Tales, Depp returns as Captain Jack Sparrow, who now encounters Captain Salazar (Bardem) and his ship of dead sailors. They're on a mission to kill Sparrow, so Depp's character must escape and make his way to the Trident of Poseidon if he wants to be free from their wrath. 
The latest sequel in the franchise comes a few years after 2011's Pirates of the Caribbean: On Stranger Tides. While it's been a while since the last movie, it appears critics weren't really missing the franchise.
Pirates of the Caribbean: Dead Men Tell No Tales is currently sitting at 33% on Rotten Tomatoes as of Wednesday afternoon.
Critics are calling the latest sequel in the franchise tired and unnecessary. Depp's performance as Sparrow is equally as exhausted and the franchise isn't showing any reason to continue existing:
Chelsey Grasso, The Film Stage:
It is time to let this series rest in peace, or at the very least, spend the rest of its doomed, immortal days sinking to the bottom of the ocean.
Rodrigo Perez, The Playlist:
The film is not unlike a classic rock supergroup reuniting to play all the greatest hits, with the payday at the end as the only true motivation, rather than returning with something new to say about their work.
Mike Ryan, Uproxx:
'Pirates of the Caribbean: Dead Man Tell No Tales' is practically incoherent.
Ellie Walker-Arnott, Time Out London:
Whatever charm and charisma Johnny Depp once had is well and truly lost at sea.
Conner Schwerdtfeger, CinemaBlend.com:
It may finally be time for Captain Jack to hang up his sword and give up the pirate's life for good.
Mick LaSalle, San Francisco Chronicle: 
If it were better — if it were merely a neutral experience — it might be called a waste of time. But sitting in a theater fighting restless leg syndrome is more than a waste of time; it's actively unpleasant.
Bill Goodykoontz, Arizona Republic:
Ever ridden an amusement-park ride once and it was really fun and exciting? And then you rode it again and again and it got less fun, until finally you wondered why you liked it in the first place? And here we are.
Mark Kennedy, Associated Press:
After this fifth episode, you'll wish Disney would just declare the franchise dead and tell no more tales.
Discover if Depp's return as Jack Sparrow was worth it when Pirates of the Caribbean: Dead Men Tell No Tales hits theaters on Friday, May 26.
Mic has ongoing movie coverage. Please follow our main movie hub here.