Stanley Robotics created a robot that will pick up your car and park it for you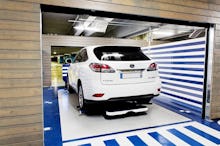 If parking your vehicle has been the bane of your existence, then relief is coming your way. French startup Stanley Robotics has created giant robots that can take care of parking at airports by picking up your car at the entrance of a lot and placing it in a designated spot.
The electric robots, called Stan, can potentially revolutionize airport parking by making it far more efficient than it is today.
It takes care of logistical elements like double parking in front of a car whose owner is away on a longer trip and keeping a vehicle owned by someone on a quick trip more accessible. The robot, which took two years to design and develop, also scans every vehicle to better comprehend their size and shape so that there is no damage and it can securely stow it away.
You wouldn't even have to give up your keys for this automated parking valet service. Since Stan is lifting your car — the robot slides under a vehicle and lifts a car by clamping the wheels  — your keys can be kept in your possession. Just give the robot your travel itinerary and your vehicle will be ready for pickup when you arrive.
By taking away the burden of parking, Stan offers an array of perks: travelers save time trying to hunt down a spot and making sure they can squeeze in, there's no worry surrounding remembering where you parked and there is less chance of man-made accidents while parking. Aside from making lives easier for travelers, the robot can reportedly increase a parking deck's capacity by 50%, without needing to modify existing infrastructure, since it would be more precise at parking cars closer together than a human driver would be capable of.
Thus far, Stan is hard at work at the Charles de Gaulle airport in Paris. The Paris-based startup recently raised $4 million in funding so the automated valet could be coming to an airport near you.