Baltimore attorney arrested after allegedly telling rape victim she would be deported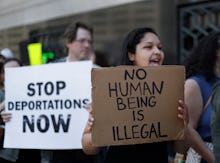 A Baltimore attorney was arrested on Tuesday after allegedly attempting to discourage a rape victim from testifying against his client by insinuating she could be deported if she did, the Baltimore Sun reported.
Attorney Christos Vasiliades reportedly offered the victim and her husband $3,000 in cash if they didn't appear in court and caused the case against Vasiliades' client to be thrown out, court documents indicate. During a private meeting on May 18, which was recorded by the victim's husband, Vasiliades and Edgar Ivan Rodriguez, who identified himself as Vasiliades' interpreter, pointed to the rise in deportations under President Donald Trump to explain why the victim should not take the stand.
"You know how things are with Trump's laws now; someone goes to court, and boom, they get taken away," Rodriguez said during the meeting, according to court documents. 
He and Vasiliades warned the victim and her husband that U.S. Immigration and Customs Enforcement was "looking at this case" as it pertained to their client, the victim's alleged rapist, and ICE officials would "likely be present" during the trial. As a result, the attorney said, it was probable that the victim, too, could be deported if she chose to testify. 
The victim and her husband primarily speak Spanish, according to court documents, which necessitated Rodriguez's participation. 
The alleged rapist, Mario Aguilar-Delosantos, is currently charged with second-degree rape, third- and fourth-degree sex offenses and second-degree assault after an incident in March 2016, the Baltimore Sun reported. Because of his attorney's arrest, Aguilar-Delosantos' trial has now been delayed until August.
During the May meeting, Vasiliades said that his client was "very sorry" for what he did and suggested the victim simply "physically assault" Aguilar-Delosantos instead, telling her and her husband to "find him and wear him out."
 According to court documents, Vasiliades allegedly said: "If we were back home where I'm from, from Greece ... we would go f*ck him up, that's it, if you want to do that, that's fine," adding, "He's an asshole, I think you should find him and kick his ass, personally." 
Both Vasiliades and Rodriguez were charged with obstruction of justice and witness intimidation and brought into custody as a result of their actions, Maryland Attorney General Brian E. Frosh confirmed in an interview with Mic. The two men, Frosh said, had taken advantage of the victim by "capitalizing on ... a climate of fear" created by the Trump administration's policy to detain and deport all undocumented immigrants, rather than just those charged with serious crimes.
"This case, I think, illustrates the folly of that kind of policy," Frosh explained. "It takes an enormous amount of courage for a rape victim to step forward and report a rape, and it takes even more courage for somebody who might be deported to step forward and report a crime."
"Thankfully, the victim in this case was somebody with a great deal of courage, and I think we owe her a debt of gratitude for helping to protect our community against somebody who commits rape and somebody else who attempts to obstruct justice," Frosh continued.